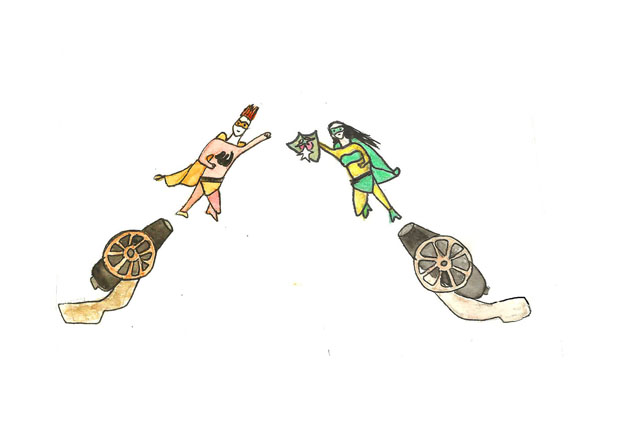 War wages between Wegmans and Greenstar shoppers
This battle is one to go down in history, a story that will be passed down from generation to generation. This is the battle between Wegmans and Greenstar.
Rootdust and Raine Treeflower, Ithaca locals, are vehement fans of their local Greenstar.
"We only shop at Greenstar because it supplies us the gifts of raw food that mother nature supplies to us." Says Rootdust Treeflower. His beard is braided and is long enough to throw over his shoulder like a scarf.
"Greenstar's wonderful food is a great supplement to add to our diet of pure sunlight." Added Raine, "Our son Lonewolf just loves their organic, raw kale-broccoli-sprout smoothies."
The Treeflower family is dutifully devoted to their favorite Greenstar grocery store, as it is the only grocery store that they visit that does not escort them off the premises on sight.
Says Rootdust, "We have tried Whole Foods, but they claim we were 'harassing' the employees for asking them if their kale was grown in soil that was made of composted organic material or store-bought manure. We left in anger." In truth, they were forcibly removed by police authorities. Their picture remains on the wall today, warning the store employees to ask them to leave if they ever enter.
The Treeflowers also tout the local flavor of the store.
"We grew onions in our backyard garden, using compost from the stems and roots of vegetables we bought at Greenstar." Rootdust informed proudly, "After the onions were grown, we sold them to Greenstar." The Treeflowers later bought the same onions a week later at the same Greenstar.
When asked about Wegman's, the Treeflowers were immediately disgusted.
"We don't shop anywhere that has a pharmacy." Said Rain with disgust, "We don't believe in 'Western' medicine. It harms our internal energies and clouds the mind." Their son has caught measles four times.
Gwen Laramie, self-described loving mother of five dogs, a four year old daughter Kayleeyanna-Maye, and one sulking teenage son Brayedonne Jaimmes, is an avid Wegman's shopper.
"I'm a gold-star member on 3 different mothering blogs. I'm an expert on child-rearing, I mean, isn't it obvious? Kayleeyanna-Maye is just darling." Brayedonne Jaimmes is nowhere to be seen. It's as if she doesn't even have a son. "Anyway, Wegman's is the best choice for children's food. I will ONLY feed Kayleeyanna-Maye food from Wegman's. If I fed her food from Greenstar, her growth will be stunted. Or worse, she would become a communist!"
Laramie also talks about how much she adores Wegman's variety. "Even when I don't find what I am looking for, another Wegman's will have it. I once couldn't find organic, environment-friendly, cruelty-free, baby-safe eggs in the local Ithaca Wegman's, so I drove to another one, and wouldn't you know, they had them!" Laramie drove an hour to Syracuse using a quarter-tank of gas to find these environment-friendly eggs.
Laramie thinks that Wegman's destroys the competition in comparison to other grocery stores.
"Greenstar is full of communists. Plain and simple. Communists who think their energy comes from the sun. I mean, really, the sun? The sun does not provide energy to living things. Wegman's is for red-blooded Americans who care about their country and Earth. Oh, and also single mothers. They love single mothers. I'm pretty sure they've had a press conference on how much they love single mothers." Evidence of this press conference has not been found.
Several weeks ago, the Treeflowers and Ms. Laramie were brought together in a focus group, to see what consumers want out of their grocery stores. Gwen Laramie physically assaulted Raine Treeflower, when Mrs. Treeflower offered her an organic bean sprout plant from Greenstar to bring back to her children.
"I ripped a few of her dredlocks out. Those dirty communists deserve it. How dare she try to poison my children with those Greenstar toxins? No real red-blooded American would be caught dead at a Greenstar. Anyway, I've still got it." Laramie boasted, flexing.
The Treeflowers were as enraged as people who get energy from sunlight can get.
"She threw off our energy. It will take months of meditation to realign our energies!" Raine Treeflower sobbed. Rootdust was dancing through his tears behind a bike rack the entire time.
____________________________________
Caitlin Vetere is a sophomore TV-R major who gets all of her food from Campus Center dumpsters. Email her at [email protected]