Teachers go on strike for literally being shit on
Teachers across the globe are enraged over the constant load of crap that gets dropped on them. This week, teachers began what is to be a month-long strike in Tompkins County against the mysterious phenomenon of poo falling from the sky.
Fourth grade teacher, Melinda Shousheim said, "It's not that we want wage increases. It's not that. We're just tired of constantly being shit on. I have to take three showers after work just to get rid of the stench!"
I decided to find out for myself what's going on with the poop phenomenon, starting in Tompkins County.
Scientists cannot seem to locate the source of the falling poo. They have found that it comes from a mysterious brown cloud that knows no boundaries. Many wonder if it's a global sensation resulting from climate change, or if it's an evil prank.
The interesting part of the weather phenomenon is that the "poop clouds," as many are calling them, tend to correspond with the weather outside. When it is sunny and cloudless, teachers can live free and clear for a day, or at least a few hours. When it rains and storms however, teachers should be warned, for the rainy and stormy days are the equivalent to a lactose intolerant person's heavy, cream-induced diarrhea.
"We haven't been able to figure out why the excrement falls only on teachers across the globe and why it has such a limitless range," Scientist Aaron Rynd said. "There have been reports of teachers mid-lecture being stormed on. That's indoors!"
If this occurrence happens to be a prank, we'd all love to know why and how someone would do such a terrible (and fascinating) thing. If this phenomenon is not a prank however, the public will have to leave the poo disaster up to the scientists.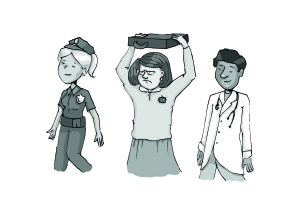 At the strike, which took place on the Ithaca Commons, I was confronted by hordes of teachers rallying with signs and chants. It happened to be a relatively cloudy day, and there was incredible tension in the air. As I looked around, everyone was chanting. One chant that stood out to me was the "NO MORE POOP" chant. Over 300 teachers and professors alike came together on this momentous, awareness-raising occasion to get their voices heard, but there was an almost audible sense of fear at the rally for when the next sky-sputtering diarrhea would come about. Some teachers were found hiding under nearby bushes and plants, or wearing hooded rain ponchos just to potentially avoid the inevitable poo storm. Several teachers were brave enough to pull back their plastic hoods and give me a bit of insight into what it's like to be a teacher right now.
"No one knows where it's coming from or why it's only hitting teachers, but we're really sick of it and we've staged a strike to increase awareness," said one third grade teacher. "I live in constant fear of an embarrassing storm happening while I'm teaching or reading the children a story."
Most of us have no idea what it's like to live in fear of a giant brown cloud floating above us, ready to strike at any moment. I believe that this is predominantly what the rally was about, as it seems that no one sympathizes with the teachers. Many of us find this phenomenon hilarious, as we don't have to deal with the constant peril of lying in our beds late at night, waking up with messy poo on our pillows.
I strongly suggest that readers read up on the phenomenon and join the global effort to discover the cause of the mysterious brown clouds taunting our educators.
I'll leave my readers with this last quote from a high school teacher, Mrs. Mayflower: "This phenomenon has been going on for years — shit dropping on us constantly! I'll be teaching a class when, all of a sudden, I'm covered in shit! Who is doing this to us and why?"
At this point, the best we can do is hope for the scientists to debunk this mysterious phenomenon so that teachers and professors can move on from this horrific trauma.
---
Amanda StClair is a freshman integrated marketing communications major who always carries an umbrella around with her, just in case she gets the teaching bug. You can email her at [email protected].