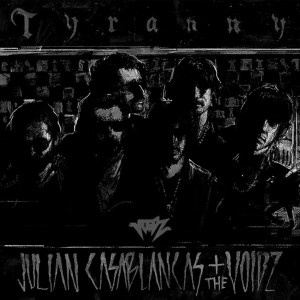 In 2001, Julian Casablancas revealed himself to the musical world with the release of The Strokes' debut album Is This It. Julian Casablancas + The Voidz's release of Tyranny marks the first time in five years that Casablancas has worked without The Strokes, and the first time ever making an album with another band, The Voidz.
Tyranny, like the title suggests, is a dark, sad album at heart that is protesting loudly. It is an experimental ball of sound and noise that is surprising, shocking and stimulating. Certainly some songs take a longer time to chew over and may require an acquired taste, however, nobody could accuse this album of being dull.
The first track, "Take Me in Your Army," sets the mood of the album with a loud, clanging, background noise that sounds like a junkyard or like Thomas the Tank Engine gone wrong. Casablancas warns people "This isn't for everybody/ This is for nobody."
The album's crowning jewel is "Human Sadness," an 11-minute sprawling piece that takes the listener across the full spectrum of human emotion. Mozart's "Requiem Mass in D minor" plays in the background of this lovely mess as Casablancas croons and whispers and screams as guitars and synths play on and over each other. "Human Sadness" comes off less as a song, and more like an epic.
Like "Human Sadness," the album is a little long-winded overall, which is good and bad. The best songs on the album tend to be the hard hitting ones like "Crunch Punch," "Buisness Dog" and "M.utually A.ssured D.estruction." Even a song like "Father Electricity" bodes well with its distorted, quick, dancy, latin-inspired beat.
However when the songs don't work well, they drag their feet to the door like "Xerox," where the repetitive beat sounds like a copier machine; or "Nintendo Blood," where Casablanca's distorted vocals don't serve the song any benefit, and the instrumentals may cause some to gnash their teeth.
Casablancas sends the album off with "Off to War.," a slow and calm song compared to others. Sounding like a lullaby or funeral song, this last tune brings the album to an eerie, quiet ending.
This album is not for the faint of heart or the impatient. It may take several listens to fully digest and even then it might not sit quite right, but that's fine. For an experiment, it's quite a success.