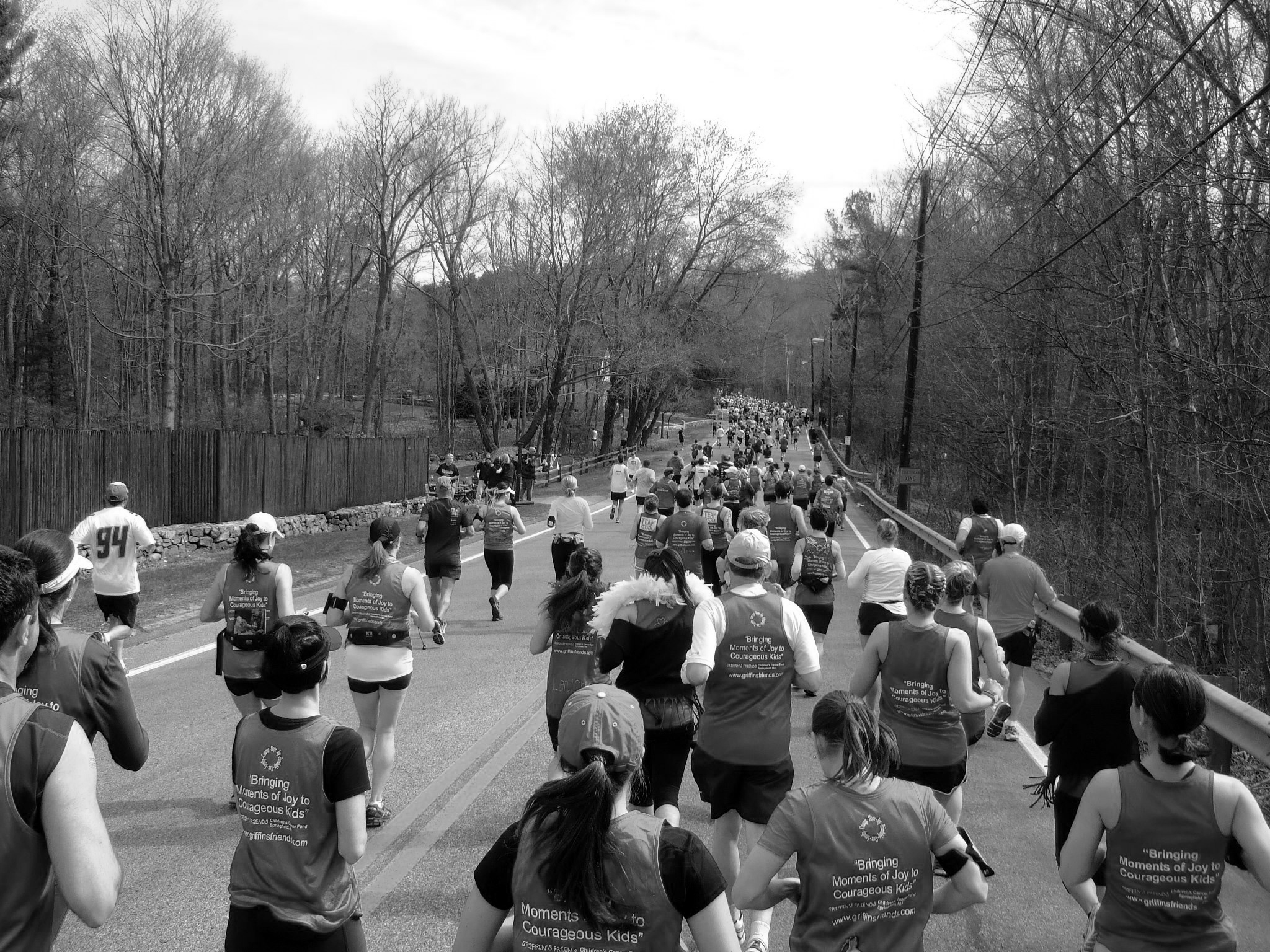 An analysis of the reporting of the Boston Marathon
The air smelled like burning plastic when Alexa Dragoumis stepped out of a bar in Boston on April 15. She was less than a mile away from the finish line, hoping to see her friend's family finish running the 2013 Boston Marathon.  As a senior broadcast journalism student at Boston University, she said marathon day is "always like a holiday at BU," since students get the day off from courses. But this year, the marathon wasn't full of smiles and celebration.
Dragoumis saw police officers break through the crowd, redirecting runners, as she listened to the sound of sirens.
"I remember somebody said something about a bomb, and my response to them — and I feel bad about it now — was that, 'Oh my god that's a sick joke! That's not even funny!'" Dragoumis said.
In fact, two bombs had exploded near the finish line around 2:50 p.m. Chaos ensued at the finish line, and in the media in the days that followed.
The media has portrayed the scene through the eyes of every type of individual — from The Boston Globe reporter David Abel's firsthand account, which was published mere hours after he fled the finish line, to the parents of a BU student from China, whose 23-year-old daughter Lingzu Lu, was killed in the bombing.
It seems that in the last few weeks, the media has approached the bombing from every angle imaginable; but as for the immediate response, the Boston Marathon bombing and the explosion at a fertilizer plant in West, Texas, that happened two days later, are just the latest in what may sometimes seem like a prewritten narrative the media has developed for crisis coverage.
For the crises this country has experienced in recent months, the media appears to have adopted a standard response system. Journalists and observers alike fill news networks and social media sites with immediate updates — everything from photos and videos of the affair, to "facts" and live coverage from the scene. As breaking tweets blast to every Smartphone user in a 2-million-mile radius, accurate depictions and explanations are mixed in with lies and speculation.
Two days after the Boston Marathon bombing, CNN's chief national correspondent, Boston native John King, demonstrated what happens when breaking news trumps factual reporting. CNN featured an "exclusive story" about the supposed arrest of a "dark-skinned male" suspect in relation to the bombing. They followed that up with an hour of speculation, recognizing the lack of information surrounding the event, then announced that there was no arrest and no suspect. While it received the brunt of the criticism, CNN was not alone in its report of an arrest — Fox News tweeted that an arrest had been made, and The Boston Globe and the Associated Press reported that a suspect was in custody.
Inaccurate reporting can not only damage the reputation of a news agency, but it can also cause viewers to grow even more anxious in a state of confusion and chaos.
"We're always going to remember, 'oh CNN slipped up,'" Dragoumis said. "As opposed to 'okay, this station was the second or third to report it, but hey, they got me the right information and I'm relieved now.'''
In an episode of "The Daily Show" that aired April 17, media critic and comedian Jon Stewart shrewdly tore apart CNN's coverage, capturing a sentiment that has been expressed by everyday media consumers and critics.
"Oh, it's exclusive because it was completely fucking wrong," he said.
Among sarcastic remarks like "this is why you turn to CNN in a crisis," Stewart asked, "So CNN, was there also perhaps any more credible sources with what they call factual information?"
At the time, the answer was no.
The media was quick to cover any comments or press conferences by the police commissioner and the FBI, but in the aftermath of the attack, there was no official word of an arrest. The supposed suspect and subsequent arrest wasn't the only myth circulated by the media, and CNN was not the only news source spreading inaccurate information.
In the days after the Boston Marathon bombing, independent and watchdog organizations like Mother Jones and Poynter began criticizing the mainstream media's crisis coverage — debunking myths and discussing the frequent faux pas of modern reporting.
Some of the common myths reported by multiple sources included stories that a bombing had occurred at the JFK library, five additional unexploded devices were found, and Sunil Tripathi, a missing person and student at Brown University, was somehow involved in the bombing. The New York Post inaccurately reported that the explosions killed 12 people and that a Saudi national was taken into custody as a suspect.
Police encountered the actual suspects later in the week. Twenty-six year old Tamerlan Tsarnaev was shot and killed when he and his younger brother exchanged gunfire with police early April 19. That evening, the manhunt came to a close. Nineteen-year-old Dzhokar Tsarnaev was apprehended in Watertown, Mass., and brought to a nearby hospital.
As the armored vehicles rolled out of Watertown, locals poured into the streets, applauding officers and chanting "U-S-A". Boston Mayor Thomas Menino grabbed a police radio to thank his officers, and then took to Twitter. Reporters and cameramen scurried the streets, capturing soundbites from enthused members of the crowd. State and federal authorities took turns speaking to the mob of cameras and microphones.
NBC was credited with breaking the news first — which became a news story itself. The headline on the Huffington Post read "NBC's Boston Reporting Ends In Triumph As Network Is First To Report Capture of Dzhokar Tsarnaev." NBC cut to its local affiliate in Boston, WHDH, around 8:43 p.m., when network correspondents started declaring the suspect captured.
But what if, like CNN with its misreport of a suspect, NBC had been wrong?
The day after the bombing, Mother Jones published a piece by staff writer Andy Kroll titled "Question Everything You Hear About the Boston Marathon Bombing."
The story examined eight instances of early reporting mistakes in the midst of crises  ranging from the 1995 Oklahoma City bombing, to the 9/11 terrorist attacks, to the recent Sandy Hook Elementary School shooting.
Kroll said he hopes journalists will take lessons from reporting mistakes made in past crises. "You see mistakes that other journalists and networks and newspapers and radio stations made, and you can apply that to the present," he said.
Whether or not reporters covering the Boston Marathon bombings had previous experience covering a crisis, many printed stories and broadcasted reports gave the public what it expected.
"I think that the Boston Marathon bombing coverage, it pretty much followed that sort of traditional narrative, you could call it, the framework for a tragedy," Kroll said.
There was the expected ongoing coverage of the casualties, the survivors and the manhunt for the suspects.
However, recently a new variable has been thrown into the standard crisis-reporting format. Social media has become a staple in many Americans' everyday lives, but it has also changed the flow of information with crisis coverage.
In the hours and days after the bombing, sites like Facebook, Twitter, Reddit and Buzzfeed blew up with speculative reports and supposed factual accounts. Kroll said he even saw some anchors and reporters sourcing information they had discovered online.
"Anything you see online you have to question, whether it's a photograph, whether it's a video … where'd it come from? Who did it come from?" Kroll said. "The same level of skepticism needs to be brought to Reddit and Facebook, and Twitter, and 4chan, and all these places, just as it would be if it were a source on the ground or a source on the phone."
While the media certainly has some improvements to consider in its future of reporting on tragedies, Dragoumis said as a budding broadcast journalist, she understands the pressure to provide new information in a constant coverage news system. Many reporters covering the event had not covered tragedies like this before. Dragoumis described it as a "learn as you go" experience.
As both a citizen of the city and a journalist, the experience was emotionally challenging for her.
Dragoumis said she remembered to stay sympathetic during interviews because "people are scared and people are feeling all sorts of emotions." She vividly recalls a conversation with a first responder who treated an eight-year old boy who was struck by a nail from the explosion.
"You just have to keep into consideration that this is a news event, but this is also a very human thing," Dragoumis said.
____________________________________
Jessica Corbett is a sophomore journalism major who sends her thoughts to all the victims of the Boston Marathon bombing, as well as the city of Boston. Email her at jcorbet[at]ithaca[dot]edu.