Local film festival celebrates 16th anniversary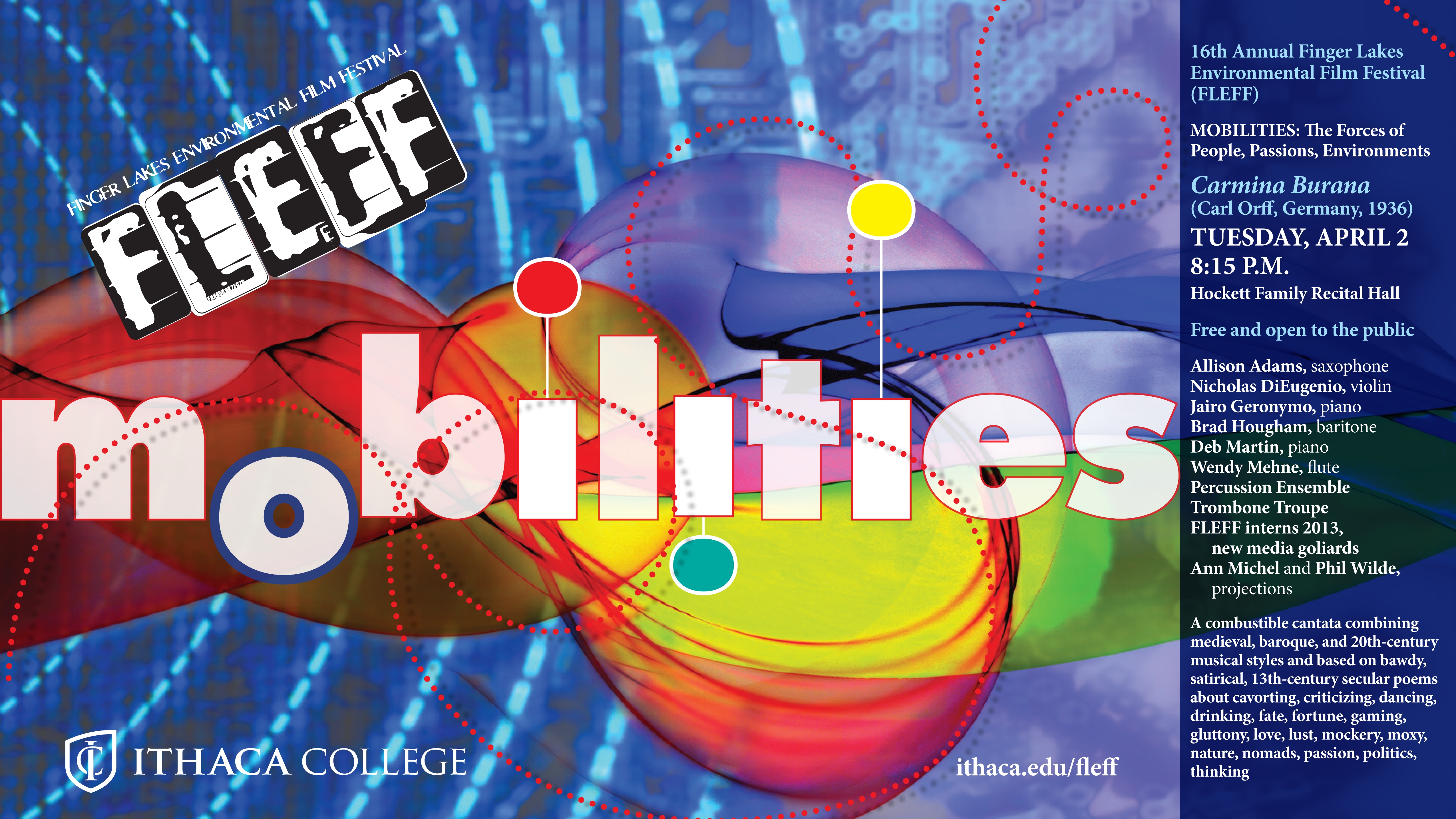 Monday, April 1 through Sunday, April 7, Ithaca College's Finger Lakes Environmental Film Festival 2013 (FLEFF) will offer forums, music, art, films and multimedia events focused on the theme of "Mobilities." Sponsored by the Office of the Provost, FLEFF 2013 will take place both on the IC campus and downtown at Cinemapolis.
The film festival will be an exciting and diverse display of films and new media forms. For those who have attended it before, it will have a new and fascinating schedule that is designed to provide intellectual engagement that the audience may not normally find.
"FLEFF 2013 promises to be a powerful display of international cinema, new media, music and writers," said Patricia R. Zimmermann, IC Professor of Screen Studies and Co-Director of FLEFF with Professor of Politics Tom Shevory. "This year FLEFF's downtown screenings will offer more films from more countries with more directors and more distributors than we've done in any previous year. We can also promise more post-screening conversations of significance, a FLEFF trademark," Zimmermann said.
The discussions with directors, distributors and academics will be engaging on a variety of topics, from "Food Sovereignty and the Global Hunger Games" lecture by Dr. Phil McMichael on April 1 at 7 p.m. in Textor 102 to a screening of Sergei Eisenstein's October on April 7 at 7 p.m. with live music from the Cloud Chamber Orchestra at Cinemapolis.
"In addition to films from Palestine, France, Korea, China, Indonesia, Zimbabwe, Russia and Tibet, we've booked a staggering array of film forms and styles ranging from art films and commercial narratives to documentaries, shorts, and experimental works," Shevory said. "That kind of heterogeneous program strategy is a FLEFF signature."
In addition to the screenings at Cinemapolis, the on-campus events will include forums, lectures, labs, discussions and special programs with new media artists, scholars and activists. One of the most popular commercial films at the festival will be On the Road, the 2012 film adaptation of Jack Kerouac's novel featuring well-known Hollywood actors Kristen Stewart and Amy Adams.
On-campus events are free and open to the public. The film screenings at Cinemapolis require admission fees. Festival Five passes are $40, student passes are $30. Ithaca College students may purchase festival passes at the IC bookstore for $20. Individual tickets to the festival screenings are $9.50. Offered as part of FLEFF's partnership with the nonprofit 7th Art Corporation, the downtown screening will take place from April 4 to 7.
The festival will offer many fascinating screenings and events both on campus and off. On Tuesday, April 2 there will be a live concert in Hockett Hall, Carmina Burana. It features the talents of Deb Martin, Jairo Geronymo, Allison Adams, Brad Hougham, Wendy Mehne, Nicholas DiEugenio, Trombone Troupe, Percussion Ensemble and New Media Goliards. There will also be a live video projection by Ann Michel and Phil Wilde at the event.
On April 2 at 4:00 p.m., there will be a workshop in Williams 202 about environmental issues in the Amazon led by Sarah DuPont, director of Amazon Gold. Her film will be shown on Thursday, April 4 at 7 p.m. at Cinemapolis. At that same time, both The Water Front and shorts from the Black Maria Film and Video Festival will be shown at Cinemapolis with Elizabeth Miller and John Columbus, their respective directors.
On Wednesday, April 3 from 6:50- 9 p.m., there will be a transmedia workshop in Business 111 with director Elizabeth Miller and alum Evan Meaney, the co-creator of Null Sets. Thursday, April 4 features a workshop about the TRUST Campaign to Fight Climate Change with Kelly Matheson in Job 161 at 1:10 p.m.
On Sunday, April 7 at 1:45 p.m. there will be a screening of the film Dear Governor Cuomo, about hydrofracking in New York State. Jon Bowermaster, the filmmaker, will be there for a discussion after the film.
Launched in 1997 as an outreach project from Cornell University's Center for the Environment, the Finger Lakes Environmental Film Festival was moved permanently to IC in 2005. It is housed in the Office of the Provost as a program to link intellectual inquiry and debate to larger global issues.
A complete list of events, including the events that have filmmakers present, is available at www.ithaca.edu/ fleff. For more information, contact FLEFF co-directors Patricia Zimmermann at (607) 274-3431 or patty@ ithaca.edu; or Tom Shevory at (607) 274-1347 or [email protected]
Kaley Belval is a sophomore documentary studies and production major who likes documentaries, go figure. Email her at kbelval1[at]ithaca[dot]edu.