Lady Bird is a very tasty movie. I know this because after it ended, the girl behind me turned to her friend and said, "Wasn't that the tastiest shit you've ever seen?"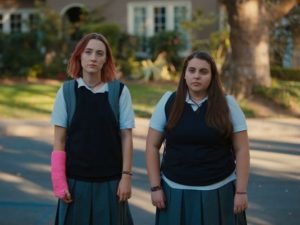 The subject of such a delicious film is Christine "Lady Bird" McPherson who is navigating the rocky shoals of her senior year at a Catholic high school in Sacramento, California. As such, Lady Bird must juggle boys, popularity, drugs and sex — all the tropes of high school coming-of-age stories — as well as the anxiety of looking to the future, as college is not something Lady Bird is prepared for. Neither are relationships, and Lady Bird grapples with both of these titanic forces for most of the film's brisk hour and a half.
Saoirse Ronan delights with her best performance to date, delivering a flurry of passive-aggressive conversations (mixed with just plain aggressive ones). Yet it's always in the back of one's mind as they watch Ronan work that she's 23 years old — her door to play the high school girl is closing quickly.
And the role is nothing Ronan hasn't done before, either. She's had similar characters in 2015's Brooklyn and a slew of young adult adaptations, including City of Ember and The Host. But the missing element in all of those was Greta Gerwig — though it also might have been Stephen Henderson playing the sweetest priest in California.
Gerwig flaunts all of the signatures she's created while collaborating with Noah Baumbach. Her screenplay crackles with zippy, believable dialogue; even though awkward comedy is some of the laziest comedy out there, Gerwig delivers the jokes with earnestness and effortlessness. The laughs are byproducts of clever, strange characters — "Six inches for the Holy Spirit," admonishes Sister Sarah Joan (Lois Smith) as she passes Lady Bird slow-dancing with a classmate.
The sensitive screenplay also brings depth to Lady Bird's parents: a domineering mother (Laurie Metcalf) who can't stand being the bad guy all the time and a closed-off father (Tracy Letts) who can't seem to find a job. The classmate she slow-dances with, Danny (Lucas Hedges), also gets a fair bit of development, but that's where the screenplay ends in terms of character work. The other supporting roles, from a bad-boy, rock-star lover (Timothée Chalamet) to her bubbly best friend Julie (Beanie Feldstein), are well-written but shallow, existing as simple cardboard cut-outs and nothing more. We know everything about them and we like watching them as characters, but we can predict everything they're going say and do because they're conventional and unchanging.
But those scenes between Ronan and Metcalf are cinematic magic. They're always at each other's throats, but their "favorite Sunday activity" is house-hunting together in rich neighborhoods as they chat about the furniture and fantasize about the sizes of rooms. Lady Bird is nothing too far from the norm, but it is, to quote a stranger, some very tasty shit.