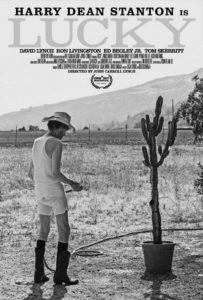 Most actors are not lucky enough to be sent off with a soulful passion project as their tribute, but Harry Dean Stanton — who died in September — is not most actors.
Here, Stanton plays the eponymous Lucky of actor John Carroll Lynch's directorial debut, from novice screenwriters Logan Sparks and Drago Sumonja's script. Lucky lives in a small town in the Southwestern United States, in an isolated house with shadowy mountains and monstrous saguaro cacti as his only neighbors. Every morning, he does his yoga exercises, drinks a cup of milk (his fridge contains three cartons and some eggs, and nothing else), listens to Latin music on the radio and makes some coffee.
The biggest conflict in Lucky is against age, but even then, Lucky seems to have made his peace with it. When the doctor (Ed Begley Jr.) admonishes him for smoking, telling him that those cigarettes are going to do him in one day, Lucky dryly responds, "If they could've, they would've."
But the film's talkative script makes ample room for some memorable supporting performances, too. Barry Shabaka Henley plays a similar role to his appearance in Jim Jarmusch's Paterson, though this time, he's a charming diner owner instead of a bartender. And famed surrealist director David Lynch steals every scene he's in as Howard, a man who's lost his tortoise. He values it more than life itself and has no reservations about letting the whole town know — "There are some things in this world that are bigger than all of us, and a tortoise is one of them!" he shouts at one point.
Those disillusioned with character studies will have a hard time stomaching Lucky, as the whole film is carefully built around Stanton. His backstory even pulls from the actor's personal life, such as his never marrying and time in the Navy.
The camera rarely leaves Stanton alone. He is in every scene and elevates them all with a sardonic glance or a slow, steady drag on a cigarette. And he sings, too!
Yet, there aren't any fantastical moments in Lucky, no hard drama or quick action. In one scene, Lucky wanders into a bar after completing the daily crossword. The drinking folk expect him to tell them what word he learned that day — "Realism is a thing," he says to them, and then he recites the definition out loud. And you don't have to be a college professor to figure out what the filmmakers are trying to tell you there.
There's a moment in Lucky when the character stands on a sandy hill, surrounded by 30-foot-plus cacti, and it's not a big stretch to assume that John Carroll Lynch wants us to conflate those cacti with Stanton. They're both tall and silent, noble yet prickly. They're creatures that seem to have been here long before us and have no designs on leaving. And Stanton proudly stands there amongst them, waiting for his turn at oblivion.