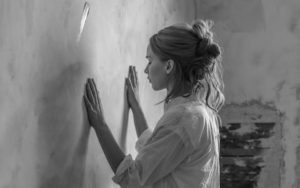 "You give, and you give, and you give," is what Michelle Pfeiffer's character tells an anxious Jennifer Lawrence about the angst of motherhood. At times, this feels like a line directly to the audience from Darren Aronofsky, whose latest film with symbolism, biblical implications and metaphors. In the first week of its release, mother! has been a source of criticism for heavy handed themes, outrageous storytelling and pretentious filmmaking. mother! received an F from CinemaScore, a dishonor owned by less than 20 films. While some of the criticism is fair, most seems unwarranted, as mother! is a deeply disturbing and panic attack-inducing nightmare; its beauty is in its ambiguity.
We are introduced to an anonymous married couple (Javier Bardem and Jennifer Lawrence), and soon after a new ominous married couple arrives at their house. This delights Javier Bardem's character, who welcomes new company almost blindly, while Jennifer Lawrence's reserved character does not trust them outright. Ed Harris as the male guest, is as mysterious as an old kindred spirit; his wife (Williams) is almost his exact opposite. She's intrusive and entitled, making Lawrence's home her own within a few hours of being there. She throws wet laundry on the floor, sneaks into rooms unauthorized, and criticizes the dynamics of Lawrence's marriage. Pfeiffer's sharp dialogue creates a woman that's really easy to hate, but Lawrence's reactions make it even more shocking.
Lawrence, the reserved and quiet homeowner, holds the entire film on her back; she appears in every scene. Aronofsky uses only POV, over the shoulder and close ups of Lawrence's reactions to tell the story. Aronofsky's direction is artful and powerful; it's clear he had a very distinct vision. He created a story using reincorporation in not just the sequence of events, but also in the camera movement and angles. At times it even feels extremely claustrophobic; leaving the house is almost impossible for not only Lawrence, who defends her home with determined fervor, but also the audience, whose discomfort becomes normalized by the third act.
Aronofsky wrote the entirety of mother! in five days, and it does feel apparent in his succinct use of symbolism. If you're paying attention, it should be pretty obvious very early on who the characters represent. Some have called the symbolism and theme of the film heavy handed, and I can definitely see where they're coming from. While I did enjoy the symbolism and metaphors in the film, I thought that it was a little weak and on-the-nose. But Aronofsky himself has said that he knows the symbolism is obvious, and by the time the credits are rolling his hand is exposed. What the symbolism does for mother! is stimulate conversation that I haven't seen in modern filmmaking in awhile.
I think the reason mother! wasn't so well received by audiences is due to its marketing. Trailers and advertisements that make the film seem like a typical horror movie, along the lines of Annabelle: Creation. Be warned: mother! and Annabelle: Creation are nothing alike. Annabelle: Creation is a fright fest that puts its strengths in entertaining scares. mother! at its core is a drama that sets out to unnerve you and play to your deepest social anxieties.