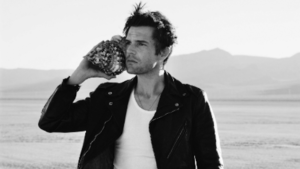 The Killers first album in five years and fifth overall, Wonderful Wonderful blends experimental, funky electronic undertones with their older, passionate rock-groove in a complex and cohesive album. Frontman Brandon Flowers wanted to call back to The Killers early success in Hot Fuss and Sam's Town, and pushed the band to create a unified record. Five years stand in between Wonderful Wonderful and The Killers' last album Battle Born, which was more of a collection of songs than an interconnected album. Wonderful Wonderful is a reward for patient fans, like an ice-cold lemonade when all you expected was a lukewarm glass of water.
The title track, "Wonderful Wonderful," sounds off an album that, if you closed your eyes, could put you right in the middle of the Nevada desert. The song is an anthem and reassurance that someone will always be there for those who sometimes feel like they're making the journey alone. "Life to Come" backs it up, singing "If you call my name I will run whether or not it's tonight or the life to come."
Religious undertones intermix with questioning motifs throughout the album, Complementing the religious motif is one of resilience and confidence, notable in the infectiously upbeat, "The Man." Even though Flowers said it was written about the regret he feels about his ego from when the band formed, he is unmistakably proud of that man. The optimistically methodic song centers on resilience from the perspective of Flower's wife, who has post-traumatic stress disorder.
Run for Cover, perhaps the catchiest song on the album, could be the perfect song to listen to if North Korea were to drop a bomb on the United States and you needed to run for cover. The song was originally written nine years ago, but has evolved into a political statement, references include "fake news" and "He held a conference and his wife was standing by his side He did her dirty but no-one died."
The album gains momentum throughout, peaking at "Tyson vs Douglas." On the surface the song is about Mike Tyson's first career loss to Douglas, but underneath Flowers discusses maintaining an aura of invincibility for his fans and family. Directly after, "Some Kind of Love" contrasts in the measured hypnotic melody, once again depicting the comfort in never truly being alone. The song is one of the most personal on the album, again about Flower's wife.
"The Calling" collaborates with Woody Harrelson, who delivers a spoken word religious intro. The song blends the religious judgment day motif with that of doubt and questioning. "Lie, cheat, steal, hope they fix it all up in post," imagines a world similar to a movie, with editing options available to remove sinful aspects.
The album finally becomes meta on the final track, "Have All the Songs Been Written?" When struggling with writer's block, writing about the cause can open up to a completely new subject. There is a sense that Flowers is singing directly to you, reminding you that they make music to "get through to you." Overall Wonderful Wonderful lives up to its name and can be enjoyed as a whole piece of art but also individually song by song.