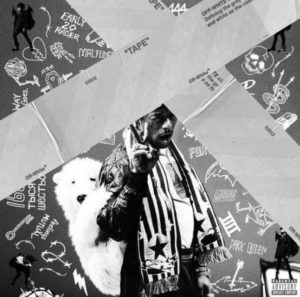 After initially announcing the project in November of 2016, fans of Lil Uzi Vert's unique, genre-bending style have had to wait nine months for his debut studio album, Luv Is Rage 2. Blame for the delay mostly goes to Atlantic Records, which held back the release to maximize Uzi's growing hype, against the artist's wishes. Serving as a sequel to the artist's debut mixtape, it should first be noted that this album very much acts as an extension of Uzi's already well established sound and persona. While technically still a hip-hop album, Uzi's form focuses significantly more on flow and melody rather than lyricism and verbal clarity. The term "mumble rap" to describe Luv Is Rage 2 and other similar sounding music doesn't accurately reflect the value in the lyrical form artists like Uzi and Young Thug utilize. So consider this a preemptive warning to those still struggling to see the quality in this style of music: Uzi is making no attempt to win over any skeptics of mumble rap with this project.
Taking it for what it is, Luv Is Rage 2 certainly succeeds. Uzi delivers all the melodies and vibes we expect from him at this point. The album opens strong with "Two®," produced by Don Cannon, LeDuff, and Uzi himself, setting the tone that carries strongly through the first half of the album. Uzi has arrived and knows the impact he has made. Following up on themes Uzi has addressed in notable features like his appearance in Migos' "Bad and Boujee" and Playboi Carti's "*wokeuplikethis," he takes on his imitators and detractors. As the album continues into its second half, a tonal shift begins to occur. The confident and proud Uzi that flexed his wealth and status in songs like "Neon Guts" and "Sauce It Up" begins to reveal the darker influences in his work. While satanic themes permeate the project (look no further than the title of the second track "444+222") the real pain Uzi draws from is his breakup with his long time girlfriend.
Uzi's breakup is probably best highlighted in the song "XO Tour Llif3," which was initially released as a single in March and went on to be his top charting solo record. The song remains a stand out on the project, and it is arguably Uzi's peak of both popularity and artistry. The production by TM88 is still top-notch and is only rivaled by a few other standouts from the album such as "X" or "No Sleep Leak," which don't reach the same lyrical quality.
While far from a game changing or even artist-defining project, Luv Is Rage 2 definitely succeeds in delivering to fans another mostly quality collection of tracks. While the long wait might have left some disappointed, the album stands strong amongst the rest of Uzi's catalogue and should effectively keep him relevant for some time. If his next project receives this much delay and build up, it could be a serious problem for the young artist. However, for now, Uzi continues to be riding a powerful wave he helped to create.