By Tyler Obropta, Staff Writer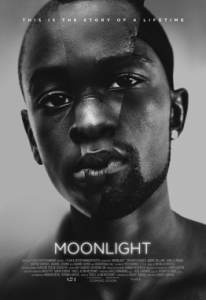 Barry Jenkins' second feature film is one-of-a-kind.
There's only one Moonlight, and there are too few films with similar characters and similar scopes. Set in Miami, Moonlight is one African-American boy's odyssey from childhood to adulthood as he grapples with his homosexuality and the adversity he faces because of it.
The first of three chapters follows our protagonist Chiron — unfortunately, he isn't a centaur from Greek mythology — when he's being bullied at school and his crack-addicted mother (a magnificent Naomie Harris) isn't much help. He seeks solace and guidance in the crack dealer, Juan (Mahershala Ali).
And mercy at last, a great child actor! As 9-ish-year-old Chiron, Alex R. Hibbert spends most of his opening third as a despondent kid, not talking to anyone. Most good movies, like good theater, are built around dialogue, so it's understandably frustrating when someone acts mute. But Hibbert sells it, filling his eyes with weight and woe and holding his own against Ali.
Ali is outstanding here with a calm, organic performance that feels at once soothing yet world-weary, and it's the scenes between Juan and young Chiron that guide us through the rough waters of the following two reels.
In the middle segment, set during Chiron's teenage years, Jharrel Jerome enters as Kevin, with a surprising amount of screentime for his first major film role. His character has a few great scenes with Chiron, particularly one beautiful scene on a beach. His first scene has Jerome energetically fast-talking his way through a story in a movie where everybody has heretofore either spoken very slowly and concisely or not at all, so Jerome immediately sticks out — in a good way, of course. He's a magnetic presence every minute he's on-screen. This second segment is also responsible for quite possibly the greatest smash-a-chair-over-someone's-head moment in cinema history.
Undoubtedly, many will flock to see this movie for Jerome. But this isn't a traditional narrative, and it isn't a traditional movie. Moonlight is a deep, intensely personal and spiritual film, one that leans more on Nicholas Britell's ghostly classical score than on R&B tracks and has characters that wear gold chains and grillz but aren't defined by them. No matter what you're expecting when you sit down in that theater, Moonlight will surprise you with its vibrant world, its deep exploration of what makes us human, and its rich, über-talented actors — who, thanks to Moonlight, are just on the edge of the limelight.