By Kirsten Poulos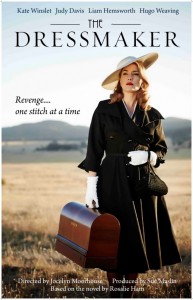 The Dressmaker, directed by Jocelyn Moorhouse, stars Kate Winslet and Liam Hemsworth. It's about Tilly (Winslet), a woman who returns to her hometown in Australia after being accused of murder. Returning as a talented seamstress, Tilly finds her purpose, but she is conflicted by her need for revenge.
While cinematically stunning, The Dressmaker's plot proves distracting and takes away from the quality of the film. For one, the title is misleading, as dressmaking isn't a huge part of the movie. At first, it was entertaining, but as the plot continued to unravel, there were too many individual story lines for each character. A love story was added between Winslet and Hemsworth, as well as multiple subplots involving supporting characters. The movie gets really busy and convoluted, and by the end, it's too confusing to follow.
On a more positive note, the music and sound mixing are done brilliantly. Each sound is very deliberate and accentuated, making each moment stand out while also remaining well-done as a whole. In some cases, the sound is the main focus of a scene. For example, when Tilly is golfing, the audio is heightened. In other scenes, the sound serves as background noise to the dialogue and compliments the acting.
While the main plot is very dark and suspenseful, the cinematography is bright and happy, a contrast reminiscent of Wes Anderson's films—both in visual sophistication and quirk.
The peak aspect of the film is the costuming. As a movie about a luxurious woman who has a talent for creating clothes, it seems fitting that the costumes are on par with the character. The pieces are exquisite. Even the dull townspeople clothes are impeccably made and chosen with care. Much like the sounds, the clothes and their colors were deliberately chosen in relation to a scene's mood or focus. One particular scene that stood out is one with two teams of men playing a game of football. One team is red, and one is blue. Their uniforms are muted but distinct. The crowd watching is clothed in muted shades of blue, green and neutral colors, the costumes all working together rather than clashing. They blend really well without looking extremely intentional, although it's clear that a lot of thought went into the costuming. As the protagonist, Tilly is clothed in bright red, standing out from the muted tones surrounding her.
Overall, the film is beautiful, but overdone and exaggerated in terms of storytelling. Had the plot been toned down, the film—like the clothes in it—could have been practically seamless.