By Tyler Obropta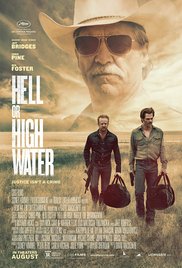 Hell or High Water is a stunning, modern Western that follows two brothers on a series of bank robberies, although the days are long gone when anyone can rob a bank and expect to live long enough to spend the money.
The Western genre has been on its deathbed for a while now, with the days of Clint Eastwood chewing a cigar far behind us. 2010's True Grit and 2007's 3:10 to Yuma offered a few bumps in the vital signs, and aside from those, the genre has mostly stuck to indie cinema with the likes of 2014's The Rover and The Homesman. But several gun-toting, cuss-heavy Tarantino films have revitalized the Western, and we now have big studio films like this year's Jane Got a Gun and The Magnificent Seven, as well as a new HBO series based on Michael Crichton's Westworld.
Hell or High Water is not the best of the Western New Wave—hell, it's not even the best one starring Jeff Bridges. But it is one of the smartest ones—a Western noir that packs character, drama and humanity into the long, hushed breaths the film takes between car chases, robberies and shootouts.
David Mackenzie, who also helmed 2013's darling British crime film Starred Up, directs a script from Sicario writer Taylor Sheridan that finds two brothers, played here by Chris Pine, Ben Foster and their mustaches, robbing banks to save their family's Texas ranch from being repossessed by the big, evil bank.
Pine's character Toby has morals, prospects and hopes for the future, while his brother Tanner, played by Foster, is the reckless, brash one with a jail record. Bridges plays Marcus Hamilton, the Texas Ranger on the verge of retirement, who is determined to bring the brothers to justice.
Hell or High Water is a smooth, energetic purée of 2007's No Country For Old Men, 1995's Heat and 2012's Killing Them Softly, mixing more complicated themes of desolation and futility with intense heists and gunfights, beautiful character moments, and solid performances by Pine and Foster. The two have previously worked together on Disney's The Finest Hours — the most forgettable film of the year.
But in The Finest Hours, Pine proved that he's more than just a leading man. He's not a one-note actor, and he is more than capable of acting against typecast. His character of Bernie Webber in The Finest Hours is quiet, reserved and shy, a deep throw from his womanizing, swaggering Captain Kirk or the bombastic, shirt-tearing prince from 2014's Into the Woods. Here, Pine isn't playing the pretty boy. He's a deeply conflicted, divorced husband who's trying to do right by a family that doesn't even want him around.
Plus, with his gnarly 5 o'clock shadow and deep V-neck shirt, you'd swear Pine is using Hell or High Water as an audition tape for Indiana Jones.
Directing a film in the deserts of the South is always challenging, because such dry settings often make movies feel arid and lifeless. But Hell or High Water is saturated with excellent performances by veteran character actors and stunning work in the bit parts, like a diner waitress who serves Pine and Foster's bank-robbing brothers some steak and eggs and then refuses to give Bridges' Texas Ranger the $200 tip as evidence.
As the ranger, Bridges is still doing that voice that sounds like he's gargling marbles in every line — like you can hear his jowls flapping every time he speaks. (He doesn't always sound like that, by the way. He talks normally in interviews.)
There's a lovely shot in Hell or High Water where Jeff Bridges crosses a motel parking lot in the earliest hours of the morning, his motel blanket wrapped around his bare shoulders and billowing behind him in the wind like he's the Man of Steel. The cinematography in the film is especially impressive, transforming a climactic shootout into a tense, shocking confrontation. It's a horrid surprise, then, that this same director of photography—Giles Nuttgens—is responsible for the clumsy and embarrassing turd-in-the-pants-of-cinema that was 2000's Battlefield Earth.
Nuttgens extraordinarily creates this world through billboards on the side of the highway that read "Closing soon" and advertise debt relief, or graffiti that calls for a bailout for veterans of the Iraq War. There's a sense of abandonment that pervades the picture, a feeling of lawlessness that travels with our main characters down the lonely stretches of Oklahoma highway and through the neon lights of a Native American casino. It's this atmosphere that sticks with you when you leave Hell or High Water moreso than the slick crime or the terrific brutality of the shootouts.
With this tense, depressing atmosphere and slow-moving crime story, Hell or High Water feels like an abridged third season of True Detective, if the series moved to Oklahoma.
At times, the social commentary gets to be a little too on-the-nose, and it also too often takes notes from No Country For Old Men's playbook, but Hell or High Water is another laudable indie entry in the Western genre. Though it may not focus on action and violence as much as most audiences would want, the film certainly has a long life ahead of itself for the devoted fans of Jeff Bridges' unique talent for gargling marbles.