By Catherine Wells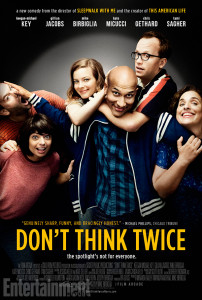 Imagine going to the impossible improv show: funny, heartfelt and short. Mike Birbiglia's latest poignant film, Don't Think Twice, is about what happens to people who keep trying to say "yes" even when life is telling them "no." Helmed by Gillian Jacobs as Samantha (Community, Love) and Keegan-Michael Key as Jack (Key & Peele), Don't Think Twice relies on its ensemble cast as much as the fictional improv troupe The Commune, and is without a weak link in the group. Each character feels fully realized and as painfully aware of their own inadequacies as the audience. The dynamics at play on and off stage are so deftly acted that the movie plays like a documentary about the improv scene, but not to its detriment: The audience learns the basic rules while getting to know all the players. Glimpses of The Commune's shows are sprinkled in expertly, and close-ups complement satisfying indie movie shots of New York City. The Commune is in trouble, its venue being sold, but the real drama quickly unfolds within its cast.
Weekend Live, the movie's pitch-perfect version of SNL, could become a cliché cause for conflict in some screenplays. Instead, the film examines the universal mixed feelings that arise around successful friends, exacerbated by the intense comedy scene. Miles (Birbiglia) has been teaching improv for years and becomes the comedic version of a high school football coach who could have made it big, constantly talking about his own Weekend Live audition with an expert mixture of self-pity for his disappointment and self-hatred for still bringing it up. When one member of The Commune gets cast, everyone's own doubts about their path in comedy and life quickly come to a boiling point. Lindsay (Tami Sagher, who doesn't waste a line of dialogue) grapples with her trust fund privilege (truly a first world problem) made worse by her friends playing the roles of struggling artists. Bill (Chris Gethard) and Allison (Kate Micucci) wonder if the dreams they've been chasing for so long are simply that, and if it's delusional to keep going at this point.
In the end, Don't Think Twice truly belongs to Gillian Jacobs and Keegan Michael-Key. Sam and Jack are funny during their onscreen romance without being an annoying, couple-y couple, a truly remarkable feat, and dramatic scenes are all the stronger because of their talent. Sam's identity crisis is as painful to watch as your twenties are to live through, in the best possible way. Don't Think Twice shows failure so much better than the usual Hollywood narrative, but the film itself is a triumph.