By Lisa Laffend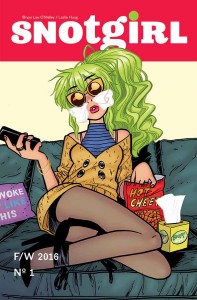 Everyone's favorite Canadian cartoonist, Bryan Lee O'Malley, best known for Scott Pilgrim, has finally released his first ongoing comic book series. Inspired by his own terrible allergies, Snotgirl is about Lottie Person, a fashion blogger and social media icon, whose picture perfect life is far more complicated than her online persona lets on. Underneath the filters, angles, and perfect outfits, Lottie is just an over-thinking, self-conscious twenty-something with awful friends and nearly debilitating allergies.
O'Malley's writing style isn't something you find in just any comic book. He has a penchant for breaking the third wall and uses more wacky in Snotgirl. While Lottie's addressing of the audience seems a little awkward at first, the story's pace wouldn't quite work without her introductions and direction, nor would it be as easy to keep track of all the characters wrapped up in Lottie's drama-filled world (which is still tricky in the first volume). The plot takes a bit of effort to get into, and may require some flipping back and forth to keep stories and characters straight. All the nicknames, fashion and pastels disguise the story as sickeningly sweet, but once you factor in the snot and perhaps a bit of blood, all expectations are tossed aside. It won't be long before you're totally sucked into this Archie-style, quirky, soap opera-esque dramedy.
Not only are we guided narratively by Lottie's voice, we get to see everything through her eyes. If you're afraid of boogers or are generally squeamish when it comes to things coming out of noses, you probably shouldn't pick up this comic. Panels of Lottie dripping a horrific amount of green goo are borderline gruesome, yet, in Leslie Hung's styling, almost elegant at the same time. The fountains of snot are exaggerated to the point where you can feel Lottie's pain.
Overall, Hung's artwork is gorgeous. Her style is so delicate and her color palette so precise and girly—I'd be willing to hang any of her panels on my wall. Other characters are glamorized or humbled in appearance depending on Lottie's opinion of them. Her ex is hunky, his new girlfriend is mousy, and Mist, a.k.a. "Cutegirl," is so petite and adorable it's almost painful).
Lottie can come across as self-centered, overdramatic and a bit mean, but in relation to everything she's going through, perhaps even some of her more drastic measures could be somewhat justified. The story, at points, moves frustratingly slow with drawn-out cliffhangers that go unresolved for multiple issues. But as accidental matching outfits, stalker former intern, and overly kind ex-boyfriend filled drama builds up, you'll be flipping pages faster than you can fully absorb Hung's art and all of O'Malley's quick quips.
It'll be another month before the next issue comes out and not until January for the first full volume, which is far too long to have to wait to find out what will happen to Lottie Person next.