By John Jacobson, Social Media Editor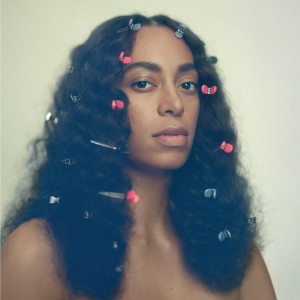 Solange's third studio album came as a surprise to the music community. After her sister Beyoncé's visual album Lemonade made waves, Solange's A Seat at the Table acted as a response to Lemonade's presented ideas of blackness and womanhood in American music. A Seat at the Table is as much a sister to Lemonade as Solange is to Beyoncé, and that is clear both in its stunning musicality and its explicit representations of black subjectivities.
The album opens with the track "Rise." Solange sings a repetition of the phrase "Fall in your ways," ending each chorus with, "Fall in your ways/ so you can wake up and rise."
?"Rise" positions A Seat at the Table as an album of empowerment. On this track, Solange's voice seems to resonate in multiple waves. Its harmonies are perfect, their repetition combining with the repetition of the tracks to suggest an empowering rise of a group, not just an individual. A sense is given that Solange is not only exploring her self-empowerment and her multiplicities of self, but that this empowerment has a resonance across a larger consciousness of black womanhood.
The album goes on to create haunting audio-visual representations of Solange's self. She presents a journey of running away from her problems in "Cranes in the Sky," utilizing its music video to express feelings of isolation. "Mad" shows Solange embracing her ability to be angry, the phrase "I got a lot to be mad about (Be mad, be mad, be mad)" harkening back to a historical legacy of taking away black women's emotional agency with their anger.
In "Mad," we see those harmonious, melancholic vocals gain a sense of frustration, coupled with raw recollections of Lil Wayne and his anger at being a black man in a world that constantly stereotypes him. We also have the track "F.U.B.U." When Solange sings, "All my niggas let the whole world know/ Play this song and sing it on your terms/ For us, this shit is for us," on "F.U.B.U." the purpose of A Seat at the Table is crystallized.
A Seat at the Table is an album that embraces black feminist thought through artistic self-expression. Solange's vocals are astounding—they're full of emotional ghosts, the melancholy of remembering a deep and painful history. They're also studded with anger, joy, and love. From a track like "Mad," the mood changes in "Junie," which is an upbeat and foot-tapping collaboration with André 3000 that calls out people who claim to be allies without working to change systemic oppression.
Solange proves with this album that her artistry as a singer, writer, and producer is one that can be both intensely personal and political. There's no distinction between the two. Rather, her self-understanding as a black woman in our world creates a tapestry for musical genius. A Seat at the Table is an album that cements Solange as an artist of the future, an artist who is unafraid to make an album for black people, black women, that the rest of us are privileged to listen to. A Seat at the Table is a momentous achievement in music, one that more than proves Solange deserves her own seat, and her own table, in this world.