By Tylor Colby, Sawdust Editor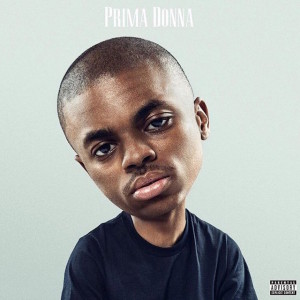 "This little light of mine/ I'm gonna let it shine…"
Vince Staples sings the lines in monotone, his own melancholic rendition of the famous children's gospel song ending with the bang of a firearm. This ends the intro track to Staples' newest EP, Prima Donna, an opener that serves as excellent foreshadowing to the atmosphere listeners can expect from the release as a whole: brooding yet hazy, slight yet entrancing. While the record is in many ways underwhelming, it has a few moments where it transcends its sleepy presentation and highlights some of the ways Staples has found his own artistic fingerprint.
As skilled an emcee as he may be, Staples' lyrical gymnastics are far more restrained as they have been in previous releases and collaborations, the focus being largely on creating a particular mood in the overall EP. The second track, "War Ready," opens up with a relentless verse by Andre 3000 followed by Vince's more laid-back set of bars. Underneath these clever, slow moving rhymes is a highly intricate, ever-changing drum and keys beat with its own non-repeating melody. To have this underneath bars of rapping, while being subtle enough not to overpower the lyrics (see Tyler, The Creator's "Cherry Bomb"), is an impressive feat. On top of that, the song's chorus is also catchy.
One rather tedious quirk of the EP is the repetition of monotone song lyrics or phrases at the end of every track. What begins as a haunting aesthetic quickly becomes bland after the third song, serving as a far too heavy handed impression of Prima Donna's themes of isolation and depression. What really drive home this mood in an elegant way are Staples' lyrics, blunt and insightful as usual.
His lyrics shine in the track "Smile," which narrates his complex feelings of emptiness and guilt following his recent successes, commercially and financially. He raps: "Money come and go so money not my motive no more/ I made enough to know I never make enough for my soul." Staples goes on to explain, by chasing his dreams of becoming a big name hip-hop artist, he's removed himself from that which he loves the most. It is a truly tragic song, but is then underpinned by the two closing minutes of the song, Staples again mumbling his way through some lines about wanting to give up, about wanting to kill himself. It is open and heartfelt, but comes off poorly executed, especially when set against the backdrop of six other highly similar moments of the EP.
In terms of production, lyrical content and structural organization, the track "Pimp Hand" stands out to me as the strongest on Prima Donna. This is a testament to the overall feel of the record, despite its ability to pull off an interweaving of different styles and rhythms in individual tracks, the song that ends up hitting the hardest is one that lays out a straightforward yet unique sonic foundation, noisy yet simple. In other words, the rest of the release feels comparatively meandering and pedantic. Vince has surely come into his own since the release of his debut album, Summertime '06; one can only hope that it won't take him much longer to get back to the explosive beats and poetic proclamations that landed him on the map in the first place.