By Lisa Laffend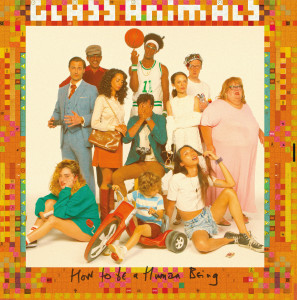 While the American alternative scene is slowly being consumed by folk and singer/songwriters, artists in Europe are channeling all the psychedelic vibes they can get. Glass Animals, an indie rock group from Oxford, England, created a sonic wonderland on their Aug. 26 release of How to Be a Human Being, the follow-up to their 2014 release Zaba.
Glass Animals sounds like the lovechild of Alt-J, exemplified in their experimentations with noise, and The Neighbourhood, primarily in the vocal aspects. Dave Bayley has a fascinating voice with a very round sound capable of conquering both the soft, sweet, and seductive as well as the big and bold, without sounding like he's simply showing off. Whatever his voice is doing, it's constantly calling you closer, begging you to hang onto every word. It drips like a juicy plum as he carefully emphasizes each word in the "Poplar St." chorus: "I am a true romantic / Free-falling love addict, yeah." Matched up with the intriguing textures bubbling up from the rest of the band, it's a dark paradise.
The first track on the album, which was also the first single, is "Life Itself." This track kicks the album off with bright xylophones before diving into tribal drums, twinkling tambourine, and an exotic horn melody. "Season 2 Episode 3," the third track, is wallpapered with all sorts of bubbling tones and poppy videogame-esque beets. Track five, "Mama's Gun" lightly waltzes with a fairytale flute and haunting symphonic atmosphere. The penultimate track "Poplar St." takes a dirty, greased-up bluesy route with a marching drum and slippery electric guitar bends.
Every track on the album vividly profiles a character or situation, real or fictionalized. "Pork Soda" coolly vents about a dying relationship — "Why can't we laugh now like we did then? / How come I see you and ache instead? / How come you only look pleased in bed? / Let's climb the cliff edge and jump again" – while "Mama's Gun" depicts a woman slipping into madness who killed her husband – "In the summer / Took my gun / And made him go to Neverland / He was something / My old husband / He was all you'd ever want." Meanwhile, "Season 2 Episode 3" describes someone strung out on visual media: "Lazy, you're lyin' on your belly / With a super porp cola / Lookin' at your phone in clothes / You've work for three days over / With a cookie as a coaster" – while "Take a Slice" explores a lustful mind – "Sitting pretty in the prime of life / I'm so tasty and the price is right / Stewing in the black dope / I'm filthy and I love it." Clearly, being human is a fairly complicated process.