By Will Uhl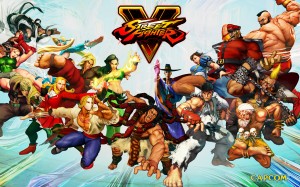 Undeniably Street Fighter's strongest entry so far, Street Fighter V makes its rapid-paced mind games more accessible without compromising its depth. However, a thick layer of unpolished and altogether lacking features line the solid core. To what degree this is a problem depends on your experience level with Street Fighter.
If you've never tried a fighting game before, you may want to hold off until the impending March update. The beginning tutorial prepares you as much as algebra does for a calculus exam. The coming patch is supposed to add an in-depth tutorial for each fighter, but it's unknown how thoroughly it will prepare players.
Aside from tossing oneself to the wolves by diving straight into online play, the three options for practice are terribly limited. Story mode gives each character two or three uselessly easy fights sandwiched between laughably bad dialogue. Training mode gives fighters a flexible and informational punching bag, but beginners looking for guidance will have to use fan-made websites.
Survival mode is the third and final single player mode, and without a doubt Capcom's biggest design flaw. Players must fight computer opponents of escalating difficulty without falling—not a bad idea. But lazy AI programming, too many fights and a lack of any compensation for failures make the fanbase's constant complaints about Survival mode entirely justified.
For players at least roughly familiar with Street Fighter, V's lack of overly-confusing mechanics is a welcome change from IV. Everything not immediately familiar should fall into place after watching a few online primers, and players can practice in training mode while they queue into the matchmaking system. However, online play is somewhere between slightly and very broken for everyone, and there's no official word on upcoming fixes.
Ultimately, it's less of a different game than a refinement of what Street Fighter has always tried to be. It begins with a seemingly-Sisyphean climb to learn from the many losses that likely lie in front of new players. But as beginners bloom into intermediate players, tight, satisfying matches become more and more common as they learn to match wits at high speed. Street Fighter is not a game made to be won and then put away — it is meant to be mastered after travelling a rough road of hard knocks. If the sweet taste of victory is worth losing and learning, Street Fighter V is a mountain worth climbing.