By Tyler Obropta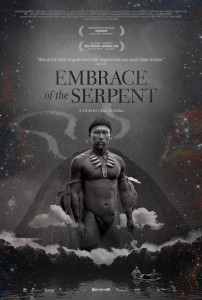 Rare is the moment when I frantically confront my friends and tell them that the movie they all need to see is a Colombian black and white adventure drama about Amazonian plants and culture. Yet, in Embrace of the Serpent, director Ciro Guerra has crafted a singular experience, something you have to see on the biggest screen possible.
Jan Bijvoet plays the ethnographer Theodor, and Brionne Davis plays the botanist Evan. Both men arrive in the Amazon in different eras, though they consult the same man to lead them to the rare and valuable yakruna plant. This man is Karamakate, the sole survivor of his tribe. The younger is played by Nilbio Torres, while the older is played by Antonio Bolivar. Karamakate and his fellow Amazon natives are unaccustomed and often vehemently opposed to the ways of "white men" like Theo and Evan.
While, yes, the plot can be boiled down to two men searching for a flower, to say that Embrace of the Serpent is about some bearded white guys looking for a plant is to say that 2001: A Space Odyssey is about some people in space with a killer robot. Not only is each about so much more than can be summarized in eight words, but each film also remains engaging and interesting only as long as the audience is looking for deeper meanings and hidden themes.
When each man sets out looking for the plant, they encounter far more in the murky, uncertain waters of the river, meeting barbaric cults, crazed God-worshippers and the horrifying aftermath of the rubber barons. Frequent mention is made to these rubber barons: they are white men who enslaved Amazonian people and forced them to harvest rubber from their trees. The only worker we ever see is a man with one arm who begs Theo and Karamakate to kill him and end his suffering. Shots of the man bending down to retrieve rubber-filled containers call to mind that shot from the Omaha Beach sequence of Saving Private Ryan. In that harrowing sequence, Tom Hanks witnesses a de-limbed soldier reaching down into the sand to pick up his bloody, detached arm.
Because of Guerra's confident direction and pinhole focus on the main cast, Embrace of the Serpent is relentlessly engaging and wholly immersive, so much so that I kept forgetting I was watching a fictional film instead of a documentary.
Great care is taken to preserve Amazonian culture on film. Characters speak their native tribal languages and explain their ancient beliefs and traditions. Where some films like Dances with Wolves casually play fast-and-loose with their cultural accuracy, Embrace of the Serpent takes the extra effort to educate as well as entertain and, really, that's all I can ask for when I go to see a movie about some white dudes cruising down the Amazon looking for plants.