by Grace Roberson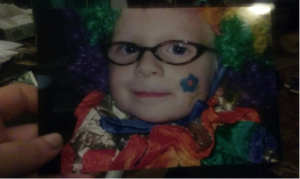 "whatever life you wear;
it will become you." -e.e. cummings
In kindergarten, I was a rainbow clown for Halloween. My grandmother, who was known for being devoted to her sewing machine, made costumes for my brother and I that year. She made my little brother his own Harry Potter cape, and my mom drew a lightning bolt on his forehead with her eyeliner. When I saw my costume, however, I was horrified. It was a bright pink top with polka dot sleeves and a ruffled, rainbow collar and pants to match. There were three bunches of fabric designed to look like flowers running down the front of the shirt, in orange, green, and purple. And just when I thought it couldn't get any worse, my grandmother had bought a rainbow afro wig for me to wear and made a polka-dot print cone hat with a flower at the top. It might as well have been a dunce hat.
Halloween fell on a school night that year, and my elementary school was having a party for us kids in the gym. So of course, it was the perfect opportunity to make my debut as a catastrophic rainbow. But I threw tantrum after tantrum. I knew that all of the other girls in my class were being princesses, fairies, witches, or cats. I was only five years old at the time, but I knew what was in store for me if I wore the costume. Although I put up a fight, I was still defeated. My grandmother had spent weeks on my costume, not including all the trips to the Jo-Ann Fabrics down the street from her house. I understood this, but I did not want to wear the wig. I still wanted to hold onto one part of the real me. I was born with thick, white-blonde hair and at the conclusion of every summer, my mother would make me cut it into a bob before school started. I thought that if people saw my hair, they would know that I wasn't actually a clown. I wouldn't be made fun of.
The girls' bathroom at my elementary school was a swarm of mothers and daughters that night, a chorus of "Stand still" or "Let me adjust your skirt." I was fighting with my mom, with tears in my eyes, refusing to wear the wig. Other moms were eyeing us, and some said that my costume was "cute" and "original." But I didn't care about any of that. I wanted to be a princess or a fairy.
At five years old, I wanted to conform. I wanted to be pretty. Even at that age, I had distorted views of what it meant to be attractive and what it meant to be a girl. I associated femininity and beauty with princesses and fairies. It would be years until I understood and accepted that femininity and beauty were powerful, multi-dimensional concepts that take on various shapes and forms.
More often than not, we fear things that are different because we fail to understand them or give them a chance. I struggled with accepting myself for years. I blamed these insecurities on my kindergarten clown costume. I blamed them on my family, who had always strayed from tradition. I tried to reinvent myself many times; for almost a decade I was constantly revising myself on the outside, never satisfied with the final draft. I had hated the idea of being and looking different because I was scared of the social consequences. It took me a while to realize that acceptance and individuality were in fact intangible. They cannot be bought or falsely attempted. Acceptance takes patience and a lot of emotional growth.
Last summer, in the weeks leading up to my graduation party, my mom asked me for old pictures to put in a slideshow. I spent some time digging through boxes in my room, and stumbled upon pictures from that fateful Halloween party. There I was, in all of my rainbow-wigged glory. One photo was a close up shot of my face. I had a blue flower painted on my cheek. The widespread grin on my face made me look like the Mona Lisa after a Gay Pride parade. I showed my mom, who burst into a fit of giggles. I eventually gave in.
Now that I'm in college, self-expression is more prominent than ever. I see people with hair, jackets, backpacks, and shoes of all different colors. When I go to the library, every laptop I see is a canvas, covered in stickers with various origins. To be in a place where everyone is unapologetically themselves means the world to me. Our sense of individuality has a clear beginning, but not a clear end — it is continuous. We never stop creating, changing, or bettering ourselves. We all have a memory or a story that inspires us to dig deep down and discover what makes us unique, to keep sharing ourselves with the rest of the world. For me, it's the rainbow wig, or the clown costume in its entirety. The colors that made up that costume are inside of me and will always remind me how I fought long and hard to be who I am right now.