By: Tyler Obropta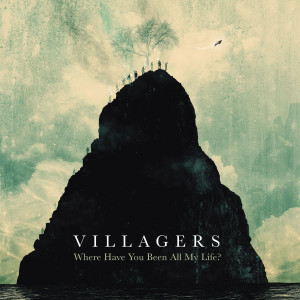 Somewhere between Sparklehorse and Of Monsters and Men on the indie-folk spectrum is Villagers, the Dublin-based band debuting Where Have You Been All My Life?, its fourth studio album.
Though the compilation entirely features re-recordings, each song retains everything that won the band its acclaim on its first album, Becoming a Jackal: an eerie, cool sound, heartfelt vocals and dark lyrics that hide beneath the blissful folk fittings. In contrast with the versions found on previous albums, the songs in Where Have You Been All My Life? take on a more ethereal quality. Unearthly tones vibrate in the background of every track with a mysterious sound, like synthesizers crossed with Tibetan singing bowls.
The smooth, jazzy basslines, tormented vocals and acoustic guitarwork are the only earthly elements that prevent the music from lifting the listeners up by the seats of our pants and flinging us into the cosmos.
The most peaceful songs on the album, the ones with the least instrumental and vocal momentum, are "My Lighthouse" and "Darling Arithmetic." In "My Lighthouse," Villagers' penchant for poetically transcendent lyrics stands out: "… We'll drink to the gentle, the meek and the kind / And the funny little flaws in this earthly design," Conor O'Brien sings, the mellowness in his voice echoing with those otherworldly tones.
Then, in "Darling Arithmetic," a song with a tangibly softer mood than the rest of the album, the instruments take a back seat to O'Brien, who asks an invisible lover, "Are you hiding up here / Did they force you to disappear?"
O'Brien's restrained vocals float through the album. It's a smooth listen; the songs are gentle, slow and deliberate. Villagers have captured the melancholia of Bright Eyes, yet none of the tedium.
Nowhere do the vocals work better with the soft-spoken synthesizers, plucky guitarwork, and soaring folk melodies than in "The Waves," a song whose commanding instrumental pulls all of the focus from the dark nature of O'Brien's words. When the song rises, its energy and raw momentum manage to overpower the persistent sadness of the album.
The songs have an unnaturally gloomy edge to them, but they're all so damn smooth that you forget how decidedly morose the lyrics are. The infectious rhythms and peremptory soulfulness make Villagers' latest album impossible to resist.
Where Have You Been All My Life? indeed.