By: Brody Armstrong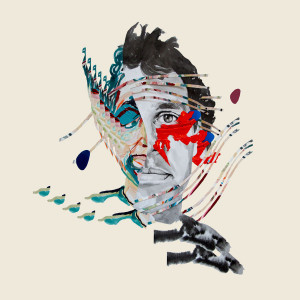 On Animal Collective's tenth studio album, Painting With, the band forgets the organic and the ambient and in turn overcompensates with a whole lot of electronic tension and loudness akin to two of its last studio releases,Centipede Hz (2012) and Strawberry JamPanda Bear Meets The Grim Reaper and call it an Animal Collective record.
With past Animal Collective projects, particularly earlier ones — notably Sung Tongs — its music felt like more of a long and soothing exhale, and in its more exciting songs, it juxtaposed this lightness with brief moments of biting, overdriven screams or abrupt vocal fluctuation. Animal Collective owned this compelling alternative sound that was like a perfect bridge between melodic psych and ambient electronic music that conveyed slow and thrilling movements of emotion. On Painting With, the band's sound has devolved into a busy theme park of "trippy" sounds and spacy vocals made incoherent by an overuse of effects.
However sparse, there are pleasant moments on Painting With, like the album's first single and opening track, "FloriDada" — that during its time of release appeared to be an auspicious sign of what the band had forthcoming. The song is one of few on Painting With that doesn't feel like it struggles to find cogency. It's fun, and like past Animal Collective songs it takes listeners on a kind of ride where you don't have to stress about flying off the rails and into a three minute space of overexcited, seemingly never ending noodly experimentation.
"Golden Gal," another single, pairs with "FloriDada" just as with most songs on the album. It's airy and sweet, though armed with less energy. By itself, it's less of a great track and is instead more like a sensibly placed song near the end of the album that breaks up its incessant annoying energy, finally slowing the pace and allowing for a segue into the relatively easing closing track, "Recycling." Which, within its simple title, ironically reveals in essence what Animal Collective has done on Painting With: that is, quite blatantly recycle Panda Bear's solo style and convert its former and more fascinating laid-back, astral sound into bouncy stoner pop.