By Sophie Israelsohn
The junior album of the lovably sardonic John Grant, Grey Tickles, Black Pressure, opens with a verse from Corinthians 13. The verse is looped, spoken first in English and then in Icelandic, Swedish, Danish and German with synthetic pings and waves surrounding the listener as if in an early exhibit of organized sound. The loops build and build until suddenly they cut out and John Grant sings the title track.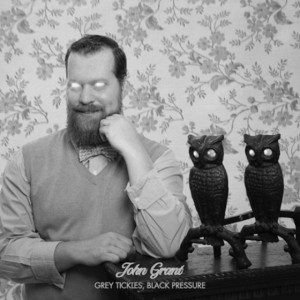 John Grant has a way of eliciting a bittersweet smile. While he's not afraid of discussing his struggles with depression, social situations and being gay in his music, he has become even more open about his diagnosis with HIV, especially in the titular track. "I did not think I was/ the one being addressed/ in hemorrhoid commercials," he admits, reflecting the immunity people may feel while watching commercials such as the HIV PSAs. Grant has a saddening sweetness to him as he sings, "There are children dying of cancer/ and so all bets are off/ 'cause I can't compete with that." No matter his suffering, he will be the first to admit that there are people who have it worse.
Grant matches his ballad lyrics with electric, funk instrumentation. "Snug Slacks" is Beck meets Bowie meets Laurie Anderson; antagonistic, mouth-to-the-mic lyrics amid synthesizers and distant funk guitar.
Cabaret queen Amanda Palmer makes an appearance on "You & Him." No stranger to the uncomfortable or avant-garde, Palmer comes in with little responses to Grant's verses and joins him with a heavy electric guitar, tambourine, drums chorus, "You and Hitler oughta tie the knot/ you could do it at Taco Bell to spice up the plot."
"Disappointing" featuring Tracey Thorn brings back the funk both aurally and visually. In the video, casually-clad John Grant follows a man first into a gym, cutting to a view of a squatting, gym shorts-clad ass. The man then leads the way to a sauna and unphased Grant sits surrounded by cookie hedgehogs and stoic, half-naked men.
Classic John Grant ballad tracks come up occasionally in this album with "Global Warming" and "Geraldine," but for the most part Grey Tickles, Black Pressure has a consistent buzz associated with drawn-out mental suffering. Honesty, a bit of selflessness and a whole lot of candor is the name of the game. The album closes with a parallel of the opening, a child now speaking the same verse as in "Intro," but now without the chaos of looping and repetition.