By Tyler Obropta
I had a friend once who had gone to Japan with his family and ate some cod milt. Milt is basically fried fish sperm. He knew what he was going to eat and he did it anyway and, he told me, he wound up vomiting it back up. But it's not like he didn't know what he was signing up for. I mean, cod milt probably tastes just as pleasant as anyone would expect.
Edward Zwick's Pawn Sacrifice is the cod milt of the film world. It's a biographical drama/thriller about chess that is just as dramatic and thrilling as anyone would expect a movie about chess to be.
Pawn Sacrifice focuses on American chess grandmaster Bobby Fischer, played by Tobey Maguire, as he battles with the Soviet Union's greatest chess player Boris Spassky for the 1972 World Chess Championship. But his battles don't stop there; Fischer is constantly at war with himself and everybody around him because, in the film at least, Fischer is a crazy person.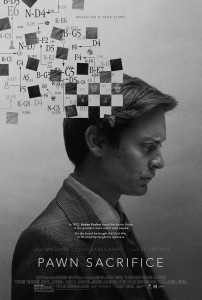 Maguire wonderfully draws out the emotional instability and naive charm of the young grandmaster while also playing up the paranoia of the character. The film takes place during the Cold War, and Fischer makes a habit of unscrewing the receivers on his telephones, checking the light fixtures and keeping the television off lest the Soviets pick up his secrets via listening devices or by watching him through the TV.
The film shows Fischer when he was very young and first getting started in chess, jumping to his teenage years when he was mentored by American grandmaster Father Bill Lombardy. Here, character actor Peter Sarsgaard is wonderful, carefully mentoring Fischer and ensuring that he stays committed to his chess match in Reykjavik, all the while being warm, relatable and funny.
Without being a clown or an idiot, Sarsgaard smartly provides much of the film's levity, something that it desperately needs. A lot of the jokes are written in and some are unintentional. One scene in particular is gloriously over the top and laugh-out-loud funny. A teenage Bobby Fischer, played by Seamus Davey-Fitzpatrick, is sitting in his small apartment in Brooklyn trying to concentrate on chess when all he can hear is the creaking and giggling noises of his mother having sex a few rooms over. In his agitation, the teenage Fischer walks out of his room and sees his mother coming out of hers with her lover. Little Bobby, in his little suit and little tie, points at the man and asks his mother, "Is this the guy you've been screwing?" When he gets really upset a few minutes later, he shouts at the top of his lungs in a thick New York accent, "Get the fuck outta here!" to his own mother in a moment of pure absurdity that is hammier and more overdone than an overweight pig in a pool of magma.
It would have been much more engrossing if the film finds Fischer preparing for his 1972 showdown against Spassky, but it instead does a connect-the-dots of the typical biopic formula. The audience doesn't need to know how he got this screwy, it's more fun to just wind him up and watch him go.
Liev Schreiber as Spassky gets top billing here and I can't for the life of me understand why. He only pops up about halfway through the movie and barely has anything to do. He gets 20 lines, tops. When his character finally goes someplace interesting, it's really funny and cool, but it's unfortunately just played for laughs and not for any thematic resonance.
Pawn Sacrifice is a movie that's trying to be anything but a movie about chess. Its chess sequences are shot like Western shootouts and avoid showing the chess board wherever possible. Its liberal use of period rock-and-roll tried to make it into the hip and freewheeling brother of American Hustle. Its choice of typewriter font for its location introductions had a miscalculated spy feel to it.
If Zwick was going to make a movie about chess, he should have done so. Though it looked nice and had some fine performances, Pawn Sacrifice is sadly a movie that can only entertain chess enthusiasts. Watching Pawn Sacrifice if you don't love chess is ultimately the same thing as eating cod milt if you're neither Japanese nor an adventurous food critic.