By Tyler Obropta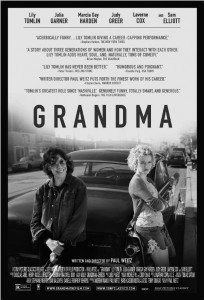 The first scene of Paul Weitz's Grandma introduces the titular grandmother Elle Reid. She is crass, she is rude and she sends her girlfriend Olivia running out of the house at the climax of a feverishly intense breakup. Elle is a misanthropic poet who uses her acidic attitude to push people away, even her own daughter, from whom she is greatly estranged.
Lily Tomlin plays Elle with astounding fidelity, masterfully fluctuating between fits of curse-laden rage and grandmotherly love at the drop of a hat. In the closeups, all her years of discontent and accumulated grief can be seen just behind the veil of her warm, old smile. And, like any grandmother, she's a little eccentric. She's paid off all of her debts and consequently has barely a dime to her name. She also loves her 1955 Dodge Royal, she smokes weed and she's cut up all of her credit cards to make a wind chime.
So, things get understandably complicated when Elle's granddaughter Sage, played by Julia Garner, comes a-knocking with an accidental baby in her belly and no money to pay for the abortion. Sage's mother doesn't know she got pregnant in the first place, so her wallet is out of the question. Elle takes Sage in and tells of her own fiscal troubles, but determinedly sits Sage down in that 1955 Dodge Royal and sets off across the city to try and scrape up the $630 she needs –– "Where can you get a reasonably priced abortion in this town," Elle quips.
Their small-time odyssey takes the pair down a line of Elle's old friends, from tattoo artist Deathy to Elle's long-ago lover Karl.
Grandma is an amusing, small-scale road movie with an appealing line-up of celebrities. Marcia Gay Harden gives a frightening performance as the overbearing mother, Laverne Cox plays Deathy with hip suavity and, best of all, Sam Elliott plays Karl with a weathered sincerity and old-time nobility. Unlike most films with ensemble casts, Grandma doesn't crescendo to their introductions, the events simply flow and the characters float into the narrative and float out after a scene or two.
It's a naturalistic narrative that gives each character his or her own short sequence which, though it gives the film a nice, episodic feel, doesn't afford the story much driving force. After Sage and Elle get on the road, the film becomes less about the mission and more about the characters these two encounter along it.
Yet, every actor is at the top of their game in Grandma. It's a smart and enjoyable slice-of-life kind of film that's not driven by any Hollywood formula. It's driven by Tomlin, Garner and a 1955 Dodge Royal instead.