By Olivia Blees
From the start of the film, it's clear that something is just not quite right in Goodnight Mommy, a unique and subtly disturbing Austrian thriller in the unnerving mold of It Follows.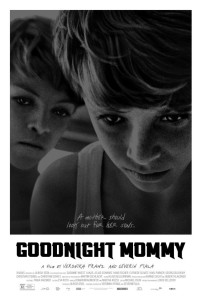 The point of view is through the eyes of 9 year-old twin brothers, Lukas and Elias, as their mom returns from an all encompassing facial reconstruction surgery and appears before them, a complete stranger. Before she was loving and warm, now she's frigid and stark, sneering demands about the new house rules, demanding peace and darkness while she recovers.
The story takes place mainly in the family's beautiful home, but quickly the modernistic estate starts to feel overbearing as the house appears more prison-like. Much like Stanley Kubrick's The Shining, the directors, Veronika Franz and Severin Fiala, play up ordinary claustrophobia that closes in even with a physically sizable location. Also emphasizing the family's isolation are shots of cornfields, a lake, a forest and, occasionally, locks on the doors.
Ominous frames of the mother observing the boys from behind windows or doors, split glimpses of her reassembled face, or simply a bloodshot eye in the mirror as she changes bandages all feed the audience's fears, as well as those of the twins. And the missing image of a father figure in every family photo coupled with no explanation in the movie for his absence adds to the boys' isolation and shows there is really no one in the house they can go to with their worries.
The three leading performances from Susanne Wuest and the Schwarz brothers are all outstanding in the way they each make the change from cruelty to compassion and back again without it ever coming across as artificial. Alongside the unnerving quality of the film is the strikingly melancholic cinematography by Martin Gschlacht and the softly unsettling sound design that permeates even the most everyday moments with a feel of anxiety and ambiguity.
Goodnight Mommy is heavy with the unknown, keeping the audience in the dark side-by-side with the movie's young protagonists, but also turns a traditional trope on its head by constructing the hero and villain roles a bit indistinctly. Is the mommy the monster for transforming as a product of her operation, or should the audience actually sympathize with her as her two boys become defiant and hostile? Are Elias and Lukas really all that faultless, or are they cut from the same cloth?
This Austrian psychological thriller/horror masterfully escalates the miniscule terrors of the bond between a parent and his or her child and the twist of an ending comes as a genuine surprise. The film is a faith-restoring contraction of the idea that all horror movies today are garbage.