By Will Uhl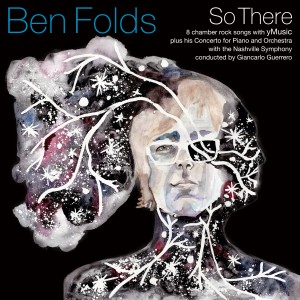 For a man pushing 50, Ben Folds has done a remarkable job of not settling down. In exchange for the head-bobbing, toe-tapping, soul-crushing ennui from his last album Lonely Avenue, Folds has brought in the classical troupey Music to aid in his slower, more elegant orchestrations. And though it sounds like a big change of pace, it's still Folds' music, for better or worse.
As typical with Folds, when he tries something new, it doesn't always work. Ironically, the album's titular song, "So There," is one of its weakest: Though the combination of piano, woodwinds and vocal duets are undeniably pretty, the lyrics don't carry their own weight. For many artists, that wouldn't be much of an issue, but Folds' main appeal has consistently been his hard-hitting, thoughtful lyrics. When a song's message is lost in translation, like with "So There," it's disappointing. Not to speak of "F10-D-A," in which Folds takes a very simple joke and stretches it over two minutes with little justification. The line "F'd in the A with a D" is played alongside the notes F10, A and D, with little to no variation.
But when it works, it's brilliant. Whereas many artists perform songs about intense, vague feelings, Folds is a master at pinpointing specific emotional conflicts and plunging into their depths. "Yes Man" is perhaps the best example of this, delving into the frustrating conundrum of finding yourself lacking and wishing someone told you about it before it came to a head. Because Folds' songs are often told through characters, it adds a layer of intrigue in trying to understand the character performing. And thanks to their emotive quality, it's not necessary to personally experience it to understand it. Though his lyrics are occasionally cryptic, they're rewarding to understand. His preference to convey complex thoughts through simple words is occasionally jarring, but on the whole, a breath of fresh air.
The concerto closes the album on a high note. Though it's a far cry from his other works, the orchestral elements in the rest of the album make transitioning into this classical composition relatively easy. And it's no lightweight, either — Folds has talked about the careful thought that has gone into the concerto before, and it shows. It's rhythmically varied enough to be worth listening to on a level of surface appreciation, and understanding the composition's clever touches is just as rewarding as clueing into the lyrical subtleties of his other songs.
So There isn't an album for everyone, and it's not even an album for every Ben Folds fan. Though trading poppy rhythms for an orchestra will turn some off, Ben Folds' So There is just as thoughtful, creative, and intermittently vulgar as ever.