By Joel Kalow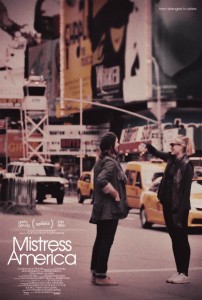 Some movies want to make you run. Others want you to pick up arms, or kiss your neighbor, or make dinner. The constant here is movement. Movies are a reproduction of movement. It's right there in the name, "move-ies," and it's not like they call them moving pictures for nothing. With that said, Mistress America makes you want to dance.
The film is the latest effort of director/writer Noah Baumbach, and the second, after 2011's Frances Ha, to be co-written by his partner Greta Gerwig, who also stars. Where Frances was loose and episodic in structure, a beautifully rendered coming of age story that referenced everything from Jules et Jim to Mauvais Sang, Mistress America is quicker and leaner. What it lacks in anhedonia it more than makes up for in quick-witted barbs and lines so quotable they'll make you frantically search for the nearest pen.
Mistress America tells the story of Tracy Fishko's (Lola Kirke) first semester at an Barnard College. She struggles with first time independence, relationships — both romantic and platonic — and school work. She also befriends her soon to be step-sister Brooke, played by Greta Gerwig. In Frances Ha, Gerwig was often arrogant and delusional, but as a whole she was compassionate, warm and empathetic. Gerwig takes Frances Halladay and turns her up a couple dozen notches for her performance as Brooke, whose manic can-do-except-I-never-do attitude provides the film with its greatest source of comedy. The two form an unlikely mentor-mentee relationship, which Tracy uses as fodder for a short story that she submits to a snooty, briefcase-using literary society. The story, entitled "Mistress America," is narrated throughout the whole film.
The film's danciness stems from a few factors. The music, composed by Dean Wareham and Britta Phillips, recalls the poppy upbeat sounds from a John Hughes' film, with just the right amount of New Order-esque sound thrown in for good measure. The editing pushes the pace as well, with fast montages punctuating the action every now and then, as if Baumbach had decided to hit fast forward on parts of his own story. By doing this, the film keeps up its breakneck, often screwball pace while still indulging in the small character idiosyncrasies that gives them true personality.
While Mistress America is a breeze at 84 minutes, it does not shy away from the things that are essential to coming of age stories. Anxiety over joining groups you have only disdain for, depression over being left out, opportunities missed again and again; these things factor into all of the character's lives. Misunderstandings haunt them, fueling their delusions, even while they crack wise about themselves. Everyone is stuck between who they want to be, who they used to be and who they really are, and it's not like these issues are resolved at the end. If anything, the crushing tide of reality is bound to push them even further into themselves.
But Tracy and Brooke's story isn't about overcoming obstacles. It's about understanding them, and that simple act alone proves to be more inspiring than a thousand sports movies. For all of the youthful energy that pumps Mistress America full of life, the message is a surprisingly simple one: hold true to who you are, admit your mistakes and be there for others.
The film ends with a voiceover of Tracy reading the last few lines of her story: "She was the last cowboy. Being a beacon of hope for lesser people is a hard business." Being a beacon of hope is hard indeed, but who knew it could look so fun?