By Brody Armstrong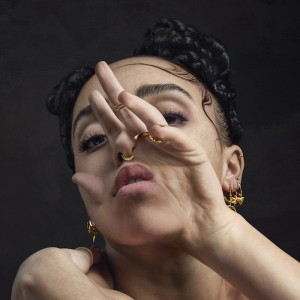 A heaping orgy of scraping, distorted synths and wandering hi-hats retract to the passionate influxes of FKA twigs' delicate falsetto, M3LL155X abstains from inducing anything less than a feeling of sonic intoxication. FKA twigs, with the help of noted Beyoncé producer, Boots, creates a chamber of sound that is totally original, pushing the boundaries of her already established avant-pop style, while simultaneously delivering something that, in all of it's obscure effulgence, is not a chore to listen to.
M3LL155X is FKA twigs' third EP and follows her commercial debut, LP1, which met significant critical acclaim upon its release last year. Abrasive and erotic, the five-song EP in its tone, subject matter and production style nearly mirrors LP1, though feels a lot more sculpted and developed due to its brevity — this being most evident in her opening track off of M3LL155X, "Figure 8."
A booming, ethereal bass line scratches along, opening up the album until the song begins to take shape as FKA twigs sings, "Let me live/ Through your vice," as percussion rattles, fading in and out around her voice. At the end of her first verse she delivers the line, "Paper cut it/ I feel/ the slightest rip is a river that's overflowing me," and a crash of absolute harsh noise lets loose. Though this is a sound that is reminiscent of FKA twigs' past work — reverberating the melodic, catchy tones of songs like "Two Weeks" and "Pendulum" — it doesn't denote from the reality that it still may be one her best produced songs she has released so far.
"In Time" is another high point on M3LL155X. "In time, you'll learn to say sorry/ And I will play tender with you," FKA twigs sings over an arpeggiating synth accented by shaking tambourines and forming a soft instrumental. Another high-pitched synth joins in during the pre-chorus, yet still maintaining the gentle atmosphere until she hits the chorus and things again get chaotic. "You've got a goddamn nerve," she repeats, frustrated with her unchanging lover, the most head-bob-friendly hook on the entire EP.
FKA twigs' other three songs, "I'm Your Doll," "Glass & Patron" and "Mothercreep" are not to be overlooked. In "I'm Your Doll," she sings about getting little attention from her lover, telling him that she's his doll and at the will of his every sexual impulse, almost in desperation. She sings about overcoming emotional disturbances in her life in "Glass & Patron," and in "Mothercreep," she observes her mother, like a stranger or stalker: "I don't know who my mother is, but I creep for you."
The EP is paired with a 16-minute film by the same title that can best be described as a surrealistic tour through FKA twigs' vision of her music. She brings every artistic element of M3LL155X together and translates it into a wild, colorful visual. The film is filled with explicit images such as FKA twigs shown as a sex doll being raped by a portly, drooling man, giving birth to multicolored fabrics, along with her dancing with a group of voguers on a runway in the middle of the woods — each scene naturally highlighted with dancers contorting their bodies. Odd at the surface, but ostensibly planted with messages of female objectification, empowerment and misogyny that she chooses to address through her own cryptic aesthetic, M3LL155X is FKA twigs' most compelling work to date.