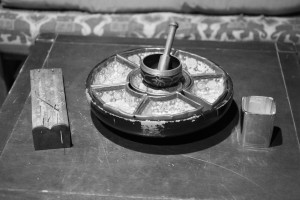 Ithaca restaurant offers alternative to the bar scene
Editorial Note: Paul Galgoczy is the writer's manager in the audiovisual department of Campus Center and Event Services at Ithaca College.
In the basement of the Cornell Daily Sun building on West State Street, community members gather together to drink herbal teas and kava while eating raw, vegan, gluten-free desserts at the Sacred Root Kava Bar. Although the taste of kava, a traditional drink from the South Pacific, may be unappealing, its effects often outweigh consumers' taste buds.
Lloyd Katz, a local chiropractor, said that many people describe it as a mixture of dirt and wood.
"The taste to some people is not very agreeable; it can be a little bitter," Katz said. "And Paul [the owner] even said, 'Well, sometimes it tastes like dirt,' and just downs it."
The drink is made by grinding up the root of the kava plant and mixing it with water.
"Kava creates a very kind of unique sensation as far as you get an enhanced focus and a greater connection to the world around you, especially nature and other people and as such," Paul Galgoczy, co-owner of Sacred Root, said. "Kava naturally promotes meaningful, social interaction."
The Sacred Root Kava Bar opened in the summer of 2014 and ignited a loyal following. Customers often visit multiple times a week, especially for events such as Irish Intergenerational Session and open mic poetry nights.
The bar welcomes a wide variety of events. Recently, community members gathered for a Paradigm Shift Film Series that featured a film about a systemic issue and a discussion that followed. In the past, the Sacred Root Kava Bar also hosted open drumming and dance sessions as well as acupuncture and yoga workshops. It periodically has a music event called The Harmonic Temple, "a conscious live electronic deep dub convergence, in a temple of melodic soundscapes" performed by Ecstatic Dance Ithaca DJs.
Katz started going to the Kava Bar when his band decided to give it a try.
"I remember the first night I probably had three drinks of the kava, and I really did enjoy the feeling," Katz said. "It helps relax you and the conversations seem to flow a little brighter and easier and we were inspired and made some beautiful connections with the people."
Unlike going to a bar, Katz said he felt that the experience allowed him to be more in tune with the people around him, as well as his music.
"I can see that way of just helping people break down a little bit of inhibitions, but you're still totally alert and perhaps the mind feels like it's just a little stimulated and more creative," Katz said. "It's sort of a new, different feeling because it's really not feeling intoxicated and no risk of any harm driving out."
Similarly, Don Murdoch, a local software engineer, said he sees the Sacred Root Kava Bar as an opportunity to engage with people in a non-intoxicated setting.
"As I've gotten older, you know, the bar scene has gotten a little less fun," Murdoch said. "So this gives me an opportunity to come out and be social and get that social time and arrive back home completely with it and feeling good and relaxed and ready to go on to the next day."
Murdoch said he sees kava as a drink that not only allows him to feel refreshed, but enhances his normal state of relaxation.
"It is that inhibition cutter that you see in other places and then later in the night, once you get home, you're more relaxed and your sleep is a lot deeper and usually your dreams are more vivid," Murdoch said. "So it's the best of both worlds, you know. You get to have a little social buzz, but then get your relaxation after it."
According to many customers, the decor of the bar adds to the peaceful atmosphere that it projects. Following a Moroccan theme, Galgoczy and his wife, Judi, tried to create a space that was representative of their mission.
"Ultimately, we wanted something that was really cozy and inviting, but also very visually stimulating and relaxing at the same time," he said.
With its gold and turquoise murals, painted mirrors and featured artwork, Galgoczy said he thinks the space offers an opportunity to the Ithaca community.
"We kind of view ourselves as a home away from home," Galgoczy said.
Customers often comment on the artistry of the bar, specifically its paintings. Each month, the bar features the work of a local artist in their main room. For the month of March, Sacred Root showcased the work of Luis Gonzalez III, a painter from Rhode Island who draws on Caribbean influences for his work. Each month on Gallery Night, an artist reception is held for the featured artist, open to the public.
"I was immediately impressed by the beauty and artwork that's all over; I could really feel the integrity and love that they put into this project and are manifesting," Katz said. "I was really surprised walking down into the basement and being so filled with color and art on all the walls."
Others said they feel that the physical space is representative of the spirit of kava itself.
"This is such an inspiring space, you know, every detail is well thought of and tended to, it really embraces the root, the grounding, the feminine, the earth energy that kava is. So I feel like it really captures kava in a space," Lenessa Shantaya, the co-owner and director of the Yoga School, said. "The events here are so multi-faceted, some of them also I like really couldn't imagine but it's really turned into an amazing venue."
The topics of conversation that take place within the Kava Bar among community members, employees and performers range from healing practices to local events to the harmful ingredients in common foods. Many of these patrons see Sacred Root as an environment geared toward people who are creative and looking for some deeper interactions with their community.
"What I've observed is that kava increases the flow of energy among the people who are drinking it, so it clears the energy field and makes mutual receptivity more available," Marigold*, manager and cultivator of the Sacred Root Kava Bar, said. "Conversation might be more on the tip of the tongue, and creative collaboration seems more possible. It increases a sense of well-being and can perhaps show a person their center."
Marigold, an Ithaca College alumna, said she enjoys interacting with all of the customers at the Kava Bar, whether or not they are regulars.
"Even if somebody doesn't feel like they're akin to our typical customer, it matters not because we don't really have like a typical customer necessarily," she said. "We have a core community of people who come back fairly consistently and then all others are welcome, everyone of all different origins and backgrounds and all different things to say."
The Sacred Root Kava Bar serves as a place of connection for customers and employees alike.
"I've had an amazing time in this community sharing kava with so many people because I have an opportunity to deeply connect with a lot of different people," Marigold said. "Because a lot of people are drawn to drink kava, it's medicine primarily, the way that I see it and it's a sacred plant and deserves to be treated as such."
Shantaya regularly makes trips to the Kava Bar to engage in the experience of the drink.
"As I experience it, it relaxes my body and it facilitates conversation and creativity and the basic opening of philosophic thought, spiritual thought, or heart connection with people," Shantaya said. "Fantastic discussions are facilitated over kava."
From 4 p.m. to midnight, Monday through Saturday, the Kava Bar is open for customers to interact with their surroundings and the people that they meet as the night progresses.
"Something about coming in here makes it feel okay to discuss, you know, really heartfelt, peaceful concepts that I don't always feel like it would be safe discussing at school or at work or places like that," Murdoch said. "It really does feel like a collection of like minds."
For those who are looking for a place to do work when many other local businesses are closing for the night, some regulars turn to the Sacred Root Kava Bar. There is free wifi as well as spaces that are large and communal or small and more private.
"If I'm working on my laptop, there's something about being at a coffee shop or about being out in public that makes you feel less isolated and less alone," Murdoch said. "And I feel that the kava bar really provides that atmosphere at night."
According to those who attend the Kava Bar, there is never a shortage of entertainment available. Besides its regular events such as music performances or salsa dancing, the owners and employees said they are always open to new ideas.
"Among the intentions is this space is to be a safe space for expression, it's kind of like an ever-evolving art project," Marigold said. "And we invite collaboration where people feel called to collaborate, which happens all the time."
Katz said he hopes to someday host his own event at the bar.
"It's a real safe space where you can have freedom to express yourself," he said.
Sacred Root sells desserts that are all raw, gluten-free and vegan, made each day from scratch by Marigold.
"I feel really blessed to have a space and have an audience and people have been really receptive to what I have to offer and my skills are evolving the more I make things," she said. "And it's like my favorite thing that I do."
The Kava Bar sells Marigold's desserts, such as salted caramel mocha pie and lemon berry cheesecake, for around $6 each. The teas range in price from $3 to $4, and a coconut shell of kava is $4. Monday through Friday, customers who come in to try kava during happy hour, between 4 p.m. and 8 p.m., can get two shells for the price of one.
"One of the goals of our philosophy is that people should be able to come out and have an enjoyable experience in kind of a luxurious setting," Galgoczy said. "Feel pampered without having a hefty price tag attached to that."
Many customers value the Sacred Root Kava Bar for providing an alternative to the bar scene and otherwise alcoholic nightlife in Ithaca.
"The space here provides a gathering space for conscious nightlife," Shantaya said. "Ithaca is just jam packed with people who want something different, but there's not actually a lot of different stuff going on, so this is great."
Galgoczy said he and his wife saw this as one of the goals of their bar.
"Unlike some other bars or clubs, the Kava Bar is very welcoming," he said. "So people come in, people introduce themselves to each other and sort of make really kind of good, meaningful interactions with people easily."
Customers who regularly visit the Kava Bar believe it creates a different environment than other establishments open at night, which ends up creating new possibilities for community discussion and collaboration.
"I think it's really wonderful that it's really created this great space that's very accessible to people downtown, to really be able to come together so share ideas," Katz said. "Really, it's just one of the friendlier places too where I always get to meet some new, interesting people and it's a very relaxing place. You feel you can just come and hang out, no pressure."
By the account of its customers, Sacred Root has been a place to make connections with creative people who are extremely conscious of their physical, mental and spiritual health while having a relaxing night out.
"The goal for us with this space is to provide kind of an option for people to come and express themselves, either through creativity or through their spirituality or ceremony," Galgoczy said. "We're a non-denominational space that welcomes people of all different viewpoints and giving them an opportunity to share their ideas and beliefs in a welcoming kind of setting."
*The source chooses to identify solely as Marigold.
___________________________________
Kaley Belval is a senior documentary studies major who says kava is not her cup of tea. You can contact her at [email protected].