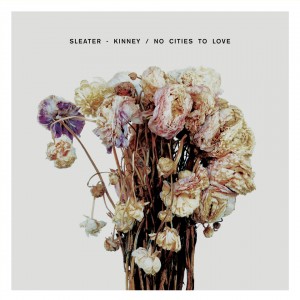 A decade-long hiatus can be a drag for fans, but it's a comfort to know that Sleater-Kinney is back with a new record, No Cities to Love, just as tell-it-like-it-is as ever.
From the first guitar lick and progression of the opening track, "Price Tag," it is clear they are going to do everything they can to make the wait well worth it.
More modern in its less-heavy percussion and higher-registered, melodic electric guitar, the second track, "Fangless," brings back an unsurprising classic rock vibe. Its symmetrical structural compositions, consistent harmony-declaring bass lines and choir of "ooo's" at refrains, are unabashedly familiar. These qualities create an easiness and simplicity where it's understood what is being said without the instrumental background being uncomfortably elaborated.
"Fangless" flows practically seamlessly into "Surface Envy," so much so that any separation between the two at all seems unnatural. However, in contrast with its preceding track, "Surface Envy" is far more in-your-face. Much of the timbre stays the same in terms of the guitar line, but the texture as a whole is impeccably thickened. It brings a back-to-business, busy sound that requires a passionate response.
Sleater-Kinney is conquering the juxtaposition of hard and soft in this record. Each song builds a crowded, heavy rock composition, with smoother, more melodic breaks in alternation. The title track "No Cities to Love" is the reestablishment of Sleater-Kinney in alternative-rock, a warm homecoming.
"A New Wave" is the perfect, mellifluous mix of aggressiveness and spunk. As the fifth track, it may be the apex of the record with the perpetually applicable and refreshingly positive declaration, "No one here is taking notice / no outline will ever hold us / it's not a new wave, it's just you and me." Sleater-Kinney hasn't yet compromised light-heartedness for purposelessness. At first listen, the fade-out at the end of "A New Wave" was disappointing. But perhaps an abrupt ending would have proved more of a cop-out than the layer of guitar solos that were instead provided.
Surely no one would be surprised if Sleater-Kinney's skills of balance are the result of natural talent. At no point in the album does a track feel out of place. There is a rather symbiotic relationship between the grunge-punk and contrasting melodic sections.
By the end of the record in "Gimme Love," Sleater-Kinney lets loose; very reminiscent of the Sleater-Kinney that wailed on "Entertain" from The Woods in 2005.
"Fade" is a culmination of qualities from each track; combining the heaviest guitar with ballad-like lyrics and harmonized solos. It couldn't be a better end to a smoothly contoured record.