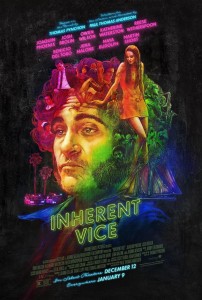 "There is no avoiding time, the sea of time."
All of the characters in Paul Thomas Anderson's Inherent Vice struggle against time. They live in 1970s Southern California in the wake of the Manson murders and stuck in the middle of the Vietnam War. They are trapped in one decade resisting the next, deluding themselves in order to block out the painful reality: Their old idealized world is gone, if it even existed in the first place.
If that all sounds too grim, don't worry; Anderson and Thomas Pynchon (whose book is the source of this story) mask the inherent darkness with a poignant sense of humor. Inherent Vice is closer to Airplane! than it is to Apocalypse Now, an absurdist comedy full of memorably bizarre characters, led by Joaquin Phoenix's Larry "Doc" Sportello. Doc is a mumbling, stoned, sorta-kinda genius private investigator. His main flaw, beyond smoking enough pot to make Cheech and Chong blush, is his inability to turn someone in need down. Within the nearly two and a half hour time frame, Doc picks up a bevy of cases that run the gamut from the personal to the professional, all of which tie into each other in some convoluted way.
The story begins with his ex-girlfriend, Shasta Fay Hepworth (Katherine Waterston), who hires Doc to find out what's going on with Michael Z. "Mickey" Wolfmann, the married man she is sleeping with. Things get more and more complicated from there, as the story introduces heroin-addict saxophone players, Indochinese drug cartels and a mysterious cult of dentists led by a never-better Martin Short. The most memorable of the cavalcade of twisted '70s caricatures is Josh Brolin as Lt. Det. Christian F. "Bigfoot" Bjornsen, a civil rights violating cop/part-time actor who hates hippies almost as much as he loves chocolate covered bananas. Brolin is a comedic tour de force, acting as the shadow that Sportello casts, the Belloq to Doc's red-eyed Indiana. Most surprising, however, is how the character ends up supplying a heavy amount of the film's heart and soul, turning a seemingly one-note character into a cautionary tale of the evils of abuse and betrayal.
The plot is similar in structure to another great stoner-noir, The Big Lebowski, which itself is indebted to the Raymond Chandler adaptation of The Big Sleep. In other words, it is more or less shrugged off, rolled up in a zig-zag, and smoked up straight by the audience. This makes the film difficult to follow, but in doing this, Anderson is able to convey Pynchon's paranoia that reflects the new era's unease, best seen through Sportello's frequent nervous glances and general jitteriness.
There is a scene in Inherent Vice toward the end, wherein Doc and Shasta sit in a car on an absent highway. Anderson captures them in the dark with a medium two-shot done in a single take, an inviting, intimate moment between the two former (perhaps future) lovers. Shasta talks about how disconnected they are to the rest of the world, as if they are underwater, while Doc mumbles in half recognition. The seriousness of the moment is undercut by the cue of Chuck Jackson's "Any Day Now" and Doc's gentle smirk.
Inherent Vice is a treatise on the ever-changing nature of America, of where we were and where we are going, a scary topic that lends itself to an over-the-top sense of humor, as if to compensate for the dark horrors of reality. Yet, it cannot be said that Anderson's film leaves the audience feeling powerless; instead, it sits next to us in the dark, chuckling quietly, making the gloomy unknowns before us just a little bit lighter.