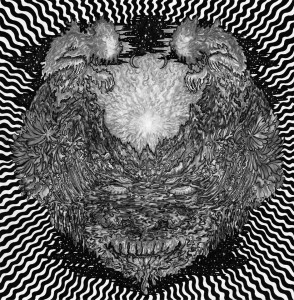 Chad Ubovich has already proven himself worthy in the West Coast garage rock community over the past few years, playing in the backing band for psych-rock virtuoso Ty Segall as well as with singer/ songwriter Mikal Cronin. However, with the self-titled debut of his own project, Meatbodies, Ubovich takes the opportunity to go beyond and shows off some of his own original material. With musical arrangements that range from slow, moody, psychedelic jams to hard hitting surf punk, Meatbodies proves Ubovich is more than a mere tagalong for Segall and his crew, but an often less ambitious and poppier side of the West Coast spectrum.
After a minute-long synth tone introduction, "Disorder" barrels in through a high-energy straightforward punk format, with layered rhythm guitars and fuzz bass all reminiscent of Ubovich's scene. This represents only half of the album, but a very significant portion. Most of Meatbodies' sound carries this formula, providing an easy foundation for Ubovich's style of lead guitar shredding and wobbly high pitched vocals.
In classic Ramones-esque fashion, the lead vocals of faster songs are relatively clean and dry sounding, allowing the listener to discern the playfully simple yet dark lyrical content, just so long as he or she is able to catch it all in the songs' fast tempos. In the super-fast tune "Off," Ubovich belts out: "I got nothin' to get me off/ My face feels like there's nothing there/ It's all bent up and I'm not here," exemplifying his swift punk delivery through immature lyrics with sobering undertones.
In the slower, more groove-based tracks, Ubovich and his band have more room to jam together, showing off more complex interlocking guitar parts. In "Tremmors," the guitars work in a call and response with the stellar lead, a mix of blues punk and black metal, and the reverb and echo- induced vocals take up the rest of the space. Meatbodies is clearly not interested in minimalism, filling in any gaps with guitar hooks, solos and sometimes synth tones to create a wall of sound, even in psychedelic ballads like "Dark Road."
With the new album, Meatbodies has been touring alongside Cronin and Segall's various side projects this past year. Perhaps the group will just be tossed around in the handful of other like-minded bands in the scene, being lumped into a genre of its own. But hopefully with his new material, and even more likely, Ubovich will take his darker sensibilities and his knack for dense songwriting further, creating a sound that is all his own.