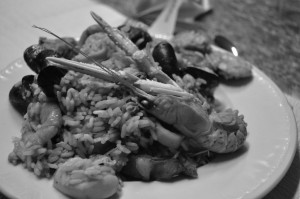 Mexican food need not apply
Vicente Gomar Giner is an exchange student from the Universitat de València in Spain.
According to one of the most prestigious culinary prizes in the World, "World's 50 Best Restaurants", organized by Restaurant magazine, three Spanish chefs are among the top eight from around the world, representing about 37.5 percent of them. However, the population of Spain is just 0.67 percent of the worldwide population according to the CIA estimate in July.
Spanish cuisine is varied, and there are several typical plates in each province of Spain. It is interesting to highlight that because, contrary to many people ?s beliefs, Spanish cuisine is not spicy at all. The most famous plate of Spanish cuisine is paella, a plate that can be cooked in different ways. The original paella is called paella valenciana, since it was created in this Mediterranean region. Traditionally, paella valenciana is composed of (but not limited to) rice, chicken, rabbit, grated fresh tomatoes, green beans, lima beans, virgin olive oil, salt and saffron. In Valencia, it is very common to eat paella valenciana with family and friends on Sundays.
Thanks to its incomparable taste, it spread quickly across the rest of Spain and Europe. This has helped develop many different styles stemming from the original one.
Among them is the paella marinera, which is made with seafood. This paella is composed of (but not limited to) rice, lobster, mussels, squid, shrimp, peas, virgin olive oil, tomatoes, onions and garlic. It is very common to eat paella marinera on the coast of Spain.
There are more plates, such as Spanish omelets and croquetas. Spanish omelets are made with potatoes, eggs, onions, olive oil and salt. Croquetas are a food which can be prepared in different ways. The base is a portion of dough made with minced meat ingredients and mixed with be?chamel sauce. Each croqueta is dipped into beaten eggs, dipped into breadcrumbs and fried in oil. The most common minced ingredients are ham, chicken and cod.
Moreover, there are some ingredients used very often, such as olive oil, manchego cheese,shellfish and Iberico ham, a special type of cured ham. These foods, Spanish omelets, and croquetas with all kinds of garnish and bread are what make up the famous tapas. All of these foods can be accompanied with a cup of wine. In Spain, there are so many different kinds of wines, the best being Rioja, Ribera del Duero and Carin?ena o Rueda. Moreover, there are some variations of wine such as Sangri?a, which is made with red wine, oranges (or lemons), peaches, sugar, carbonated water and ice (but there are many different ways to make this). In summer, one of the most famous plates is gazpacho, which is a fresh soup made with tomatoes, green peppers, garlic, cucumber, virgin olive oil, sherry vinegar, hard bread, fresh water and salt. For a sweet drink, we usually go for the horchata, made up of chufa (which is a tuber that mostly grow in Valencia), water and sugar. Horchata is usually served with fartons, a glazed confectionary sweet made with flour, milk, sugar, oil, eggs and yeast. In winter, the most typical candy is chocolate with churros, made with wheat flour cooked in oil. Mediterranean diets (traditional cuisine of Greece, Spain and Italy) currently influence Spanish cuisine, which has always been associated with good health. This diet is based on a lot of plant food, such as grains, bread, vegetables, legumes, fruits and dried fruits. It contains seasonal vegetables and fruits, because they are tastier and carry more nutrients. It is recommended to eat both five times each day. Fresh fruit is considered the
best dessert.
Bread and grains (pasta, rice and whole-grain products) are eaten every day, since they provide a lot of energy, as well as dairy products (mainly yogurt and cheese), which are rich in minerals and vitamins. Fish is typically eaten several times a week, especially oily fish. On the other hand, eggs and meats are eaten in moderation.
The main source of fat comes from the use of olive oil, which has cardioprotective properties that prevent future cardiovascular diseases. It is a treasure in the Mediterranean diet and has stayed with it for centuries.
---
Vicente Gomar Giner is an exchange student from Spain who is studying business. He takes his horchata shaken, not stirred. Email him at [email protected].