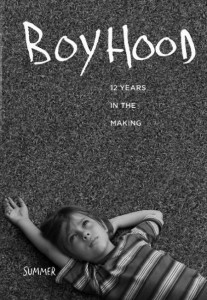 Boyhood delivers a beautiful odyssey of modern life, evoking pain, beauty and reminiscence for all ages. If born between 1994 and 1996, it is probable that Richard Linklater's film hits very close to home. Regardless of age, Boyhood will align the crosshairs on anyone who is interested in their own childhood.
Mason is a quiet, slightly outcast thinker who absorbs the dizzying elements of life and change around him. From ages five to 18, actor Ellar Coltrane (Mason) grew up through the lens of a camera, along with the rest of the movie's cast. Boyhood is the product of a 12-year mission to capture the rapidly changing body, mind and spirit of a young boy, and to see those three elements whirl together in a maelstrom of emotion, spiraling into adulthood.
Watching Boyhood in theaters was like being part of a social experiment. Boys slumped down their chairs when mom's embrace was shoved away in middle school. Girls empathetically giggled at the "whys" and "whatevers" exhaled on screen. Mothers sighed as the family moved to Texas to live with grandma. As for myself, Boyhood sometimes reflected like a mirror, as I too was 11 years old during the release of the Nintendo Wii and the last Harry Potter book. This film is constructed for all ages, but it would be nai?ve not to mention the physical relevance that Boyhood offers to the current 19-year-old.
There was no way for Linklater to know which actors would be right for this film when the project began, as nobody remains the same person after 12 years. In an interview from Mail & Guardian this September, Linklater said, "You don't plan…You march towards the future and move as the reality shifts."
Ethan Hawke is a recurring actor in Linklater's films, and as the father in Boyhood, one
can see a connection established over the years between himself and his two children in addition to the growing bond between Hawke and the two young actors. Neither Linklater nor the cast was sure how the movie would end. But with a dozen years and one cast, it's no wonder Hawke and Coltrane seem like father and son.
Though Mason's life ran parallel with every student enrolling to college this year, it does not limit any reflection for others. I was born in 1995 and, during the 165-minute run, little nostalgic knots of my life came loose. When Mason was about 7 years old, Sheryl Crowe's pop hit "Soak Up the Sun," which I associate with Kidz Bop, seemed an immature musical choice for a movie I thought deserved a better score. But then I remembered; when I was 7, in 2002, I hummed that song while putting my backpack in the wooden classroom cubby.
This film accentuates on significant moments and archetypes that slid to the back of our minds, which no ordinary blockbuster could fish out. From the camping trip with dad or seeing mom cry, the 2 a.m. tacos with your girlfriend or the scolding from your photography teacher, something is bound to resonate in the chest either during or after the digestion of Boyhood.
Boyhood is not a twist and turn plot. It is best described as life extracted from a youthful time of change and awakening which we all undergo. Boyhood will have something new to offer this year's audience in 10 years time. Perhaps Linklater will have made a sequel by then.