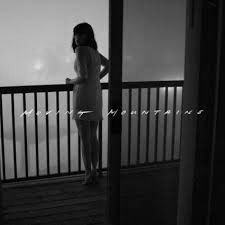 Over the course of their discography, the only consistent thing about Moving Mountains' sound has been their nature of inconsistency from album to album—and it comes as little surprise that the band's self-titled release sounds nothing like its predecessors.
Moving Mountains moves away from the post-hardcore vocal style seen in Waves, and into a more melodic indie-rock sound. Gregory Dunn's grungy voice has become soft and breathy, and the music feels lighter overall, but that isn't to say that it is any less powerful than previous releases. What it lacks in heavy, energetic moments, it makes up for it in a beautiful combination of soothing instrumentation and powerful lyrics.
The album opens with the slow, simple beat of "Swing Set." Mixing layers of acoustic and electric guitar along with Dunn's airy vocals, this opening track is contrasted against the next track, "Burn Pile," and its energetic chorus. "Hands" displays the band's impressive command of this new, softer style, managing to be incredibly moving in its simplicity.
"Seasonal" opens with a riff from new guitarist Josh Kirby. This fast-paced tune incorporates a solo from Kirby and an abrupt crashing ending. "Eastern Leaves" then brings it back down with repetitive acoustic strumming, and slow breathy vocals. High-pitched bells add the perfect touch to the lonely and somber feel of the piece. The song seems to be a good summary of the whole album, as it later meshes more intense instrumental and vocal moments with the slow and simple.
"Hudson" then returns with a wave of crashing guitar and drums. Fast paced and eerie in places, this song may appease fans who preferred the heavier sounds of MovMou's previous albums.
"Apsides" wraps up the album. It is solemn and drawn out, but its slight build-ups and incorporation of new bell-like guitar sounds completes the album.
Moving Mountains is an experimental band, but what keeps their experiments successful is their honest approach, and this album is no exception. It's different, but it's simple and intimate. There is no struggle in accepting that this is a natural progression of their sound.
It remains to be seen whether or not this album is just another step in the band's development or if Moving Mountains' experimental progression ends here. With the band's recent announcement of an "indefinite hiatus" on its website ("These will likely be the last Moving Mountains shows for the foreseeable future… We're all planning to pursue other artistic endeavors and look forward to sharing those with you.") the members of Moving Mountains have opened new doors for more unpredictable and experimental reincarnations of their sound than ever before.
– Rachel Doane