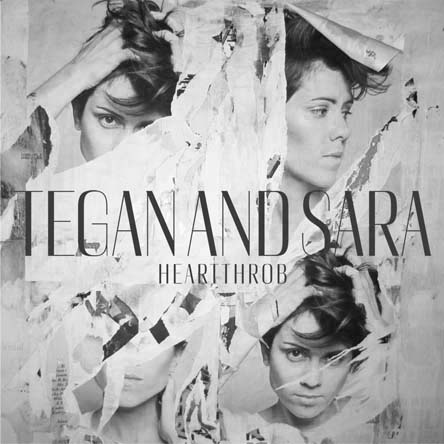 Album Review
Tegan and Sara's seventh studio album, Heartthrob, rings with all of the classic folk-indie-pop sounds you would expect from the identical twin duo, while adding in a new twist of electronica and synth. The album echoes all of the elements that brought Tegan and Sara to their current success and happily embellishes all of the things that audiences love about them.
Heartthrob features anthems about love and edges toward the pop end of the spectrum, but follows a logical sound progression from their last studio album Sainthood (released in 2009) and holds true to the duo's personality and authenticity. The album's sound should come as no disappointment to serious Tegan and Sara fans, but also welcomes a wider range of musical tastes than some of their earlier work, which tended to lean much more towards the peculiar and played to a specific fan base. Their distinct genre-mixing creates an atypical, but not unpleasing, tone by melding upbeat electronic sounds and pop bass lines with sounds reminiscent of the 80s and 90s.
It opens with the upbeat, poppy "Closer", a radio-worthy hit which explodes in an accurate representation of the remainder of the album, exploring the intensity and excitement of physical contact: "Here comes the rush before we touch/Come a little closer." The album itself focuses on the intricacies of love, heartbreak and everything in between, peppered with synth-driven dance beats. Songs such as "I Couldn't Be Your Friend" are fairly reminiscent of current pop titans such as Katy Perry, but stay true to the duo's sound with backup riffs and passionate lyrics : "Led you astray, I won't deny it/I did what they thought would be good for me"
"Drove Me Wild" and "Love They Say" are notably the most cheery songs on the album, with lyrics exploring the positive aspects of love: as the ballad-y "Love They Say" soulfully declares, "there's nothing love can't do." These songs offer a stark contrast to the rest of the album, which crescendos with electric anger and passionate lyrics laced among upbeat tones. "How Come You Don't Want Me" wails, "Why don't you want to wait this out?/How come you always lead me on,/Never take my call, hear me out?" "Now I'm All Messed Up" begs on top of heavy electronica beats in a self-doubting tug of war, "Go if you want/I can't stop you /go (please stay)."
Heartthrob captures the intense lyrics and unique indie-folk-pop sound that Tegan and Sara always bring with their albums but is still different enough to keep listeners engaged and yearning for more. The album makes a mark on the pop music radar, but their sound stays true to their roots and makes it an engaging experience for loyal fans and new listeners alike.
– Samantha Guter