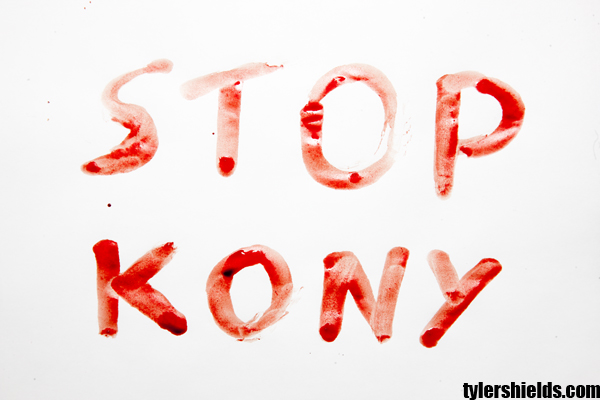 "We've seen these kids. We've heard their cries. This war must end. We will not stop. We will not fear. We will fight war."
If you've had access to social media in the past few days and 30 spare minutes to procrastinate, you have probably heard these cries for help. This is a phrase chanted by young activists involved with non-profit organization Invisible Children's crusade to end Joseph Kony's rebel group, the Lord's Resistance Army. This man has been capturing and manipulating central Africans and forcing them to kill, rape, and enslave, solely to maintain his status and power in the region. After relentless dedication from passionate members, Obama agreed to commit 100 military forces to help capture and kill Kony and his top lieutenants. However, Invisible Children knew that without more worldwide recognition, military support could be removed at any time.
Thus, the Kony 2012 social media campaign was born. Feeding off of the undeniable success of SOPA and Planned Parenthood social media movements of earlier this year, Invisible Children created a viral video outlining Kony's actions and the goals of the campaign. By targeting social and political celebrities and influencers, Invisible Children's video incited viewers to sign a pledge to bring awareness to the cause. The campaign also includes an April 20 "Cover the Night" event, through which volunteers can spend the evening in their respective neighborhoods hanging Kony 2012 posters, which can be purchased online.
Using the hashtags #Kony2012, #StopKony, and the phrase "Make Kony Famous", Invisible Children's cause was trending worldwide on Twitter within a day. Celebrities such as Taylor Swift, Rihanna, Zooey Deschanel, and Chris Brown have expressed their support, and Facebook walls are being flooded with shared links.
From the outset, the immediate success of the Kony 2012 campaign seems like an incredible Cinderella story. However, the widespread social media awareness has created some backlash. Uneducated individuals, completely misunderstanding the irony in the campaign logo's similarities to a presidential advertisement, are tweeting to stop using the hashtag to prevent Kony from becoming president. The cynical are posting Facebook statuses telling the masses to stop getting involved in worldwide issues because they are not qualified to do so. People are also expressing via social media that Invisible Children is undeserving of the awareness compared to other causes and their direct influence on America. A campaign designed to saturate the masses has begun to desensitize the public.
I am personally disturbed by the unfair reaction of some Americans to this amazing cause. Invisible Children is not asking for volunteers. They are not asking for everyone to be experts on the Lord's Resistance Army. They are not even asking for donations. The purpose of the campaign is to spread global awareness for a cause that needs immediate recognition. By "making Kony famous," the United States government will feel pressured to keep troops in Africa until Kony and his lieutenants are stopped. Social media has allowed Invisible Children to receive acknowledgement from all walks of life, ranging from celebrities with millions of admirers to everyday individuals.
Invisible Children's Kony 2012 campaign has revolutionized global involvement: By merely Tweeting or sharing a link, one can help save a region in need. Instead of criticizing this movement, swallow your pride and take a few seconds to help change the world.
The Ithaca College chapter of Invisible Children will be hosting a screening of KONY – and the Invisible Children Road Crew – tonight at 7:00 in Textor 102. Check it out on Facebook here.