By Anne Gould Northgraves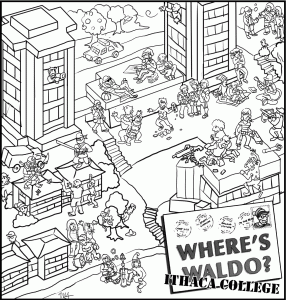 Sheriff Herman Thomas issued another APB today to national law enforcement agencies regarding the disappearance of Waldo W. Waldoski after a recent sighting at a beach. The local recreational explorer and fan of red-striped sweaters has been missing for more than a decade.
"An anonymous tipster said he was spotted in the upper right quadrant of the beach on a busy summer day," Thomas said. "Or was it the left part of the water? The lower middle beach? By the changing tents? I can't remember!"
While the international manhunt has delighted the nation's curious, it has had many negative repercussions. Over 50 million dollars have been spent on additional officers, special canine units and sharp-eyed children.
"In this recession, we just can't keep spending at this rate," Thomas said. "Who knows how long he's going to be missing? We can only look for so long."
There are others for whom finding the man is a bigger priority. Waldo's wife Wendy told reporters she still holds out hope her husband will return.
"I just want him to know, wherever he is, that I still love him and want him to come home," Wendy said as she sat on the front porch of her condo, where she was finishing a red and white knit hat for her long-lost spouse. She has knit more than 50 since Waldo first went missing.
Since his disappearance, Wendy has lived on a fixed income, and for the past three years has relied on welfare and the kindness of bespectacled strangers she accidentally lets into the house thinking they are her husband.
Wendy said their son, Waldo Jr., has never met his father.
"He's the spitting image of his father," Wendy said of her little boy. "From his pom-pommed little head to his long blue pants. I even lost him at Santa's Workshop in the forest of candy canes—temporarily, of course."
"I just want to tell him I love him," Waldo Jr. said, lisping as he pushed up his glasses.
Unfortunately for Waldo's family, some disturbing new information has come to light about his possible whereabouts over the past decade. A man of the same height, weight and attire has been wandering around the United Kingdom going by the name of Wally, said Inspector Basil Davies of Scotland Yard.
"I say, we've seen a fellow of that look," Davies said. "He's been gallivanting about the countryside. We haven't had this hard a time locating someone since the Loch Ness monster."
It has been reported that Waldo has also been traveling through time, complicating the search. Hawking University physics professor Dr. Isaac Bauer says evidence of Waldo has appeared in wall carvings from ancient Egypt and other eras.
"Several paintings from the Stone Age, upon close examination, show a figure waving a jaunty hand and wearing the tell-tale red and white sweater," Bauer said. "There is also evidence from old Viking excavation sites, Roman frescoes, even Japanese Kaiga paintings."
With continued unanswered questions and complications, it appears as if there is no end in sight for one of the most endearing mysteries in the history of the world: Where is Waldo?
______________________________
Anne Northgraves is a junior screenwriting major who could have sworn she saw Waldo near the bumper cars. E-mail her at [email protected].